Welsh-Scottish fusion from Elinor Evans
Uncategorized
September 10, 2015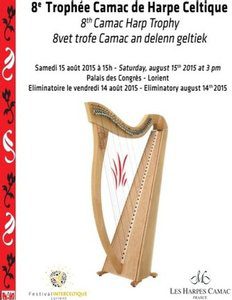 Congratulations to Elinor Evans, winner of the Trophée Camac at 2015's Festival Interceltique de Lorient!
Based in Scotland but from a Welsh family, Elinor describes herself as a hybrid between two Celtic cultures. She began her harp studies with Meinir Heulyn in Cardiff, before moving to Edinburgh. She then studied Scottish Traditional Music in Glasgow with Isobel Mieras – and has now moved back to Cardiff, where she is currently a postgraduate in lever harp performance and classical composition. "Everything I write has traditional music influences in it, even if I don't set out to do that", she says. "This is my culture and my music is a reflection of that."
There are many connections between the Celtic lands – but in fact, the paths linking Wales and Scotland are not as direct as those between Wales and Brittany, or Scotland and Ireland. Scotland and Ireland are Gaelic; Wales and Brittany (and Cornwall), Brithonic. Cultural convergence and divergence gets even more interesting in a musical context. The harp is Wales's national symbol,  culturally prominent since Medieval times and across several different types of harp. The Celtic clarsach, however, did not arrive in Wales until the 1970s – and this is Scotland's oldest national instrument.
"I've recently formed a duo with the Welsh fiddle player Patrick Rimes", Elinor continues. "We're so recent we don't have a name yet, but we're already playing Welsh-Scottish fusion with a contemporary twist. I'm first and foremost a Clarsach player, so I perform on that. It's very exciting to be exploring Welsh avenues on the Clarsach. The history of traditional music, be it in Scotland or in Wales, shows that all harps are incredibly versatile instruments in their own right. They can take on influences from wherever they find themselves, moving seamlessly between traditional and contemporary settings. That's why traditional harp music is constantly finding new voices, and staying so dynamic and vital."