Vasilisa Lushchevskaya: Liebestraum
Uncategorized
January 11, 2016
Liebestraum, Vasilisa Lushchevskaya's debut solo CD, is now available from our online store! Don't miss your chance to discover the winner of the first Ksenia Erdely Competition (St Petersburg 2012), performing works by JE Bach, Daquin, Bochsa, Liszt, Godefroid, Glinka, Erdely, Mchedelov, Durand, McLaughlin and Zabel.
A student of Milda Agazarian since 1996 – firstly at the Gnessin Special School of Music in Moscow, and now at the Russian Academy of Music in the same city – Vasilisa already has an impressive collection of competition prizes. These include the Young Harpists Competition (Moscow, 1997); Lily Laskine International Harp Competition (Junior Division, 1999); the 'Classical Heritage' International Competition (Moscow, 2005); and the Bronze Medal at the USA International Harp Competition (Bloomington, 2010). As a soloist / concerto soloist, Vasilisa has already appeared in concert throughout Russia (St. Petersburg, Moscow, Nigniy Novgorod, Lipezk, Kaluga and many others), and further afield in Europe (Spain, Greece, Finland, and Switzerland).
Vasilisa is not the first outstanding harpist to emerge from Milda Agazarian's class, and we never cease to be impressed by the artists from this wonderful school. Vasilisa's beautiful sound, musical clarity, and simplicity immediately draw you into the heart of the music. We were spell-bound during her performance of Zabel's Faust Fantasy during the Erdeli competition's second round.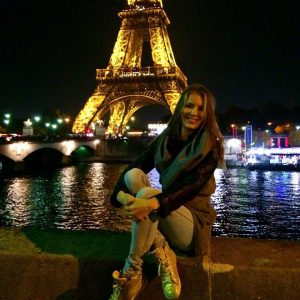 Apart from being an amazing classical virtuoso, Vasilisa also has a crossover group with her four sisters – QuintElle – which tours extensively in Russia and abroad. QuintElle has also won a plethora of awards, including the Grand Prix and the "Best Instrumental Ensemble" award from Russia's Fashion House International.
You can also enjoy some videos from the album launch here on YouTube.