Uncategorized
January 26, 2016
Harpes au Max will feature twenty-four performances across just one weekend! Francophones can explore it in detail here.
The festival will launch with an evening concert of world music: Şirin Pancaroğlu (Turkey), playing the çeng; Taras Yanitskiy (Ukraine) on the bandura; Wu Lin on the Chinese konghou, and a Venezuelan trio of Eduardo Betancourt, Leonard Jacome and Leonidas Rondon – and our llanera, of course! Both the çeng and the konghou have ancient roots, and disappeared for centuries, before being revived in the twentieth century. The bandura has also undergone many a dramatic restriction, revival or redevelopment, often driven by political change. The llanera harp is part of both Colombia and Venezuela, takes its musical inspiration from the Spanish baroque, indigenous South American traditions, African rhythms…and is finding a new starring role in Latin jazz. This concert is therefore a voyage around the world. It will explore traditional, indeed ancestral harps (çengs have been found dating back as much as 2500 years) – and their identities today.
After 'Harps of the World', you can move from Ancenis's Theatre Quartier Libre, to its beautiful Chapelle des Ursulines: here, the Tara Minton Trio will perform two sets, at 9PM and 11PM. We've long been fans of Tara Minton: we recently had a great day with her in Cambridge UK, and we're delighted to welcome her Trio in France – it's been too long since the Camac Festival in Geneva, where we were with them last!
Between the Tara Minton Trio's sets, at 10PM on Friday, you can raise a glass to contemporary Irish music: Ranagri will open the "Harpes a la Taverne" programme. This best translates as "Harps in pubs", a fine idea if ever there was one. Being France, this actually means a chic brasserie with delicious food, wine and Breton cider, but anyway – returning to the question of the music, Ranagri are a great, new contemporary folk/indie band. Their four members – Jean Kelly (DHC Blue Light harp), Donal Rogers (vocals/guitar), Eliza Marshall (flutes/whistles) and Tad Sargent (bodhran/bouzouki) – all have busy careers across the musical spectrum. From the Albert Hall, BBC Radio 3 and the Philharmonia, to touring or recording with Peter Gabriel, Ennio Morricone, James Horner and Hans Zimmer; from traditional Irish music sessions, to work with the Divine Comedy and Radiohead – all this musical experience comes together in Ranagri.
In 2014, Ranagri signed to Stockfisch Records, where they recorded the highly-acclaimed SACD hybrid album  'Fort of the Hare'. A new album with Irish folk star Tony Christie is in the pipeline, and you can get a taste of their music here and here. You also have another chance to enjoy them in Ancenis on Saturday, as part of the evening pop harp concert.
Moving on to Saturday, May 14th: we'll begin at a civilised 12 noon in the Chateau d'Ancenis, with a classical recital by Marcel Cara and Aiste Balyunite. Marcel and Aiste are both students in Isabelle Moretti's class at the Paris conservatoire, and already with diverse honours and prizes to their names – including the Concours Francais de la Harpe in Limoges (Aiste) and the International Harp Competition in Szeged (Marcel). The day then continues in classical vein, with "Classique a la Chapelle" – a 5PM concert of two halves, the first half featuring a young talent, and the second an established star (who in this case is also young, but that's a coincidence). Elisa Jouve, who recently won the instrumental section of the French TV talent contest Les Prodiges, will begin, also in duo with violist Jeanne Duquesnoy. She'll be followed by Anneleen Lenaerts, who needs little introduction to most of you. At the age of just 27, the Principal Harpist with the Vienna Philharmonic is also firmly established as one of the leading soloists for her instrument. She recently released a disc of harp concertos (Glière, Rodrigo, Jongen) with the Brussels Philharmonic and Michel Tabachnik (Warner Classics 5054196350550). We also love her wonderful programme of Chopin and Liszt (Aliud ACDBB0562) – including an interpretation of the great Nocturne Op.48 which never fails to reduce us to tears.
At 7PM in the Théâtre Quartier Libre, we'll throw the stage open to whoever would like to perform! The open stage will be followed by pop harp at 8: Elisa Vellia, the inspiration for our ultralight Ulysse lever harp, Ranagri once again, and Deborah Henson-Conant. It was with Deborah that we developed the DHC Blue Light, a wearable electric lever harp which has set a new standard in its field.
Meanwhile, at 8:30PM in the Eglise de Montrelais, there will be a free harp ensemble concert: Shelley Fairplay's Dynamic Harps from Cardiff, Wales, and the Cempaka and Penang Harp Ensembles from the Malasian studio of Rave Harps. You will have another chance to hear these ensembles on Sunday, at the Théâtre Quartier Libre at 2:30PM. For this concert, they'll be joined by even more ensembles: the Tasmanian Harp Ensemble, Hexarpa (France), and Harpo-Mélusine (also France).
The festival's second day finishes with Saturday night fever: or 'Harpes au Club'. Tara Minton, Shelley Frost, Arnaud Roy and Eduardo Betancourt will join forces with DJs Betrand Depart and Dan Bono, in the beautiful surroundings of the Chapelle des Ursulines, for a gig that even we have not experienced before!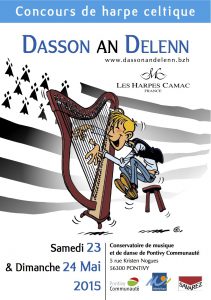 On Sunday, May 15th, we will do our best not to arrive at the first concert of the day still wearing our disco outfits from the night before. In the Château d'Ancenis, we are delighted to present the winners of our recent lever harp competition in Brittany, Dasson An Delenn. They are: Paul Vieuxloup and Nour Midouni, Aurore Esposito, Bleuen Guillouard, Céline Bourreau and Adèle Etaix. After lunch, we'll have the aforementioned big ensemble concert, and a second performance of 'Classique à la Chapelle' with Elisa Jouve and Anneleen Lenaerts, at 6PM.
I should emphasise that this is not even the whole programme! There will be a plethora of informal, free performances throughout Saturday and Sunday, in all sorts of different venues in the district of Ancenis. They might be in shopping centres, in the street, in the municipal libraries or even all of these – so keep your ears and eyes open in your pauses between concerts, and who knows what you will find!