Pluck and the Magic Banyan Tree DVD GIVEAWAY
Uncategorized
November 20, 2015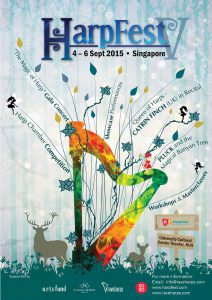 Katryna Tan is no stranger to Harpblog's pages. Her tireless range of professional activities never fails to delight us, from her own solo and chamber performances, to her incredible teaching work, building a thriving harp scene in Singapore. Her fifth HarpFest took place in September, and featured a sequel to "Pluck!", the harp opera that had so impressed us in 2012.
For those of you who want to feast your eyes on just how much can be achieved with a harp class, we have ten DVDs of Pluck and the Magic Banyan Tree to give away. To win one, please email [email protected] with the answer to this question: in the opera, how did the magic banyan tree get nurtured back to health?
Don't forget to include your postal address! First ten correct answers to hit our mailbox get a DVD, and maybe even a harp-shaped eraser so you can be the envy of the world during rehearsals.