New centre in Singapore
Uncategorized
December 22, 2015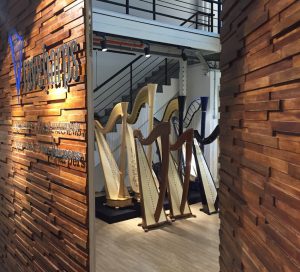 Katryna Tan and her harp centres, Rave Harps in Singapore and also in Malaysia, are no strangers to Harpblog's pages. Be it concerts and recordings, books, awards, visits to France or an full-on harp opera – we never cease to be impressed, delighted and at times truly amazed by the creativity and professionalism of Katryna and her colleagues.
The Singapore branch of Rave Harps have moved into gorgeous new premises at 73 Ubi Road 1. On entering the centre, you'll find a light and airy duplex with a concert / exhibition space in the centre. The ground floor also includes series of teaching and rehearsal rooms – the Ravel room, the Debussy room and the Mozart room (and yet another rehearsal room, the Beethoven room, in the basement) – plus a comfortable waiting room for parents. Upstairs are offices, reached via a walkway looking down on the central space.
"We would like the centre to be like a home from home for the sixty-odd young harpists who are now part of Rave Harps", explains Katryna. "Students are welcome to come and practise, look through music, practise performing in the central space, and basically hang out together. We wanted to create a really pleasant environment, peaceful, friendly and not crowded. This is important for making art and music."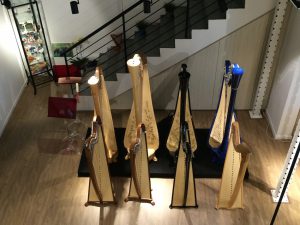 As well as feeling impressed, delighted and amazed, we at Camac all also feel very proud to be associated with such a beautifully-conceived organisation. Music education, and indeed music itself, is not only – or perhaps it is better to say, not exclusively – about music. It is also about teamwork, about self-expression, about learning how to handle pressure, and about the sparkling heights you can achieve if you work at something steadily and hard. Some children will go on to become professional musicians, others won't, and this is only as things should be. But the effect of dynamic and inspired music education on all children lucky enough to receive it can be immeasurably enriching, and something they will never forget.