HarpFest Singapore 2015
Uncategorized
July 30, 2015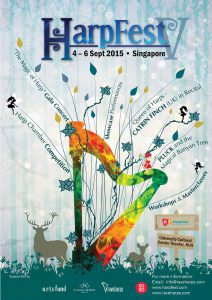 We never fail to be amazed and delighted by Harpfest, Katryna Tan's incredible festival in Singapore – and 2015 is no exception. Harpfest 5 will take place between September 4th – 6th, 2015, and presents a multitude of events in the course of just three days.
Firstly, there are a host of courses and masterclasses: by Catrin Finch as guest artist, a fine line-up of renowned teachers from throughout Asia, and a jazz workshop by none other than Jakez. Secondly, we'll enjoy a new adventure from Pluck – who first delighted audiences in Singapore in a sold-out and full-length harp opera in 2012. In the Harpfest Gala Concert, we will have the opportunity to hear award-winning young artists from around the region – together with established harp ensembles, and a special 50 harps tribute to Singapore's 50th Birthday this year.
While you are drawing breath from reading all that, please note that Harpfest 5 also features two competition elements. Young artists can apply to perform in the Harpfest showcases, and also, this year Harpfest is hosting the Asian Harp Chamber Music Competition.   

The competition is open to two age groups – junior (12 and under), and youth (20 and under) – and to all local and Asian nationalities. The first round is via video recording before June 15th, and the (public) final will be on September 4th at the University Cultural Center, National University Singapore. First Prize Winners from both categories will then perform in the Harpfest Gala Concert in the University Cultural Center Theatre, on September 6th.
There is an early bird discount for all festival pass booking before May 30th. Being an early bird is also recommended if you are coming from overseas and would like help finding accommodation – Harpfest has organised preferential rates with local hotels, subject to availability.
Those of us on the Camac team who are already going to Singapore in September can hardly wait already, and those of us currently not on the list are busy devising compelling professional reasons for our necessary attendance. Download your festival pass form here!