HarpFest 2015, Singapore
Uncategorized
September 21, 2015
"Here is my new harp centre", said Katryna Tan to Jakez and me over Skype. "Wow Katryna, it looks incredible", said we. "How long did it take?" "It was quite busy to get it all done, because we planned three months for the building work", she said. "Well yes, I can understand", said Jakez. "How long did it really take, then?". "Er – three months", said Katryna, looking slightly baffled. French three-month building projects have nothing to do with actual concrete measures of time, so we were suitably amazed.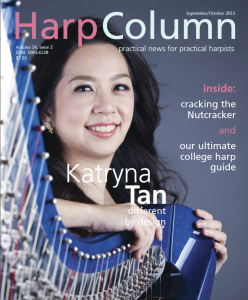 We usually are amazed, when it comes to news from Singapore. Just when you think it's not possible to get more impressive, Katryna Tan and her wonderful team do it again!
Katryna is on the cover of this month's Harp Column magazine. Inside, you will find an extensive interview about her work, and also about how she built it up – from the days when there were in effect no harpists in Singapore, to the thriving dual centres in Singapore and Malaysia of today. We also recommend Katryna's book, Unleash the Musician in You – and there is HarpFest. The fourth HarpFest featured a full-length harp opera, and this year, there was a sequel.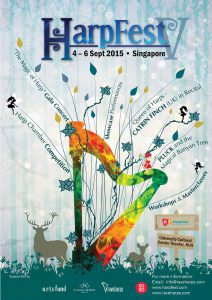 For those of us that couldn't be there to watch "Pluck and the Magic Banyan Tree", Leonard Lim has written it up. Read it here: Pluck and the Magic Banyan Tree – Review
HarpFest V also featured a competition for the first time: the Asian Harp Chamber Competition. Here are the results:
Junior Category
First Prize: Chloe Liow and Renee Yadav (Singapore, harp duo)
Second Prize: Chloe Lam and Celestine Sheum (Singapore, harp duo)
Third Prize: Jane Wong, Rose Shek, Mui Wing Sum, Elishia Yeung (Hong Kong, harp quartet) and
Kaitlyn Tan and Isabel Ho (Singapore, harp duo) ex aequo
Youth Category
First Prize: Charmaine Teo, harp; Hsieh Yu Ling, violin; Wang Tzu Wen, cello (Singapore)
Second Prize: Nicolette Chin, harp; Clarissa Lim, violin (Singapore)
Third Prize: Bianca Beng, harp; Tsumugu Misugi, violin (Singapore)
Congratulations to them all!
On the long flight to 2012's HarpFest, I chanced upon an inflight film about a hotelier who, although an economist and not a hotelier by training, had gone into hospitality because he wanted to build something tangible. Be it in Singapore, in Tettnang, teaching or performing, be it for concert work or events management, I'm continually inspired by artists who independently build their careers. They create work for themselves, and they reach out to others. Their students, whether they become professional harpists or not, will look back on their harp studies as having really added something to their life experience. Their audiences, similarly, enjoy something special and meaningful that wasn't in their lives before.
[rev_slider harpfestsingapore]