Harfenfest Luzern: September 4th – 6th, 2015
Uncategorized
August 30, 2015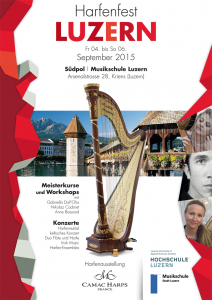 We are delighted to be collaborating with Anne Bassand on the upcoming HarfenFest Luzern (September 4th – 6th, 2015). The three-day festival explores classical and traditional music, both in their solo forms and in diverse ensembles. Nikolaz Cadoret, Gabriella Dall'Olio, Stefanie & Roman Haller's Irish-inspired Duo Larkin,  and Anne Bassand herself are all on the programme. The long weekend will conclude with two student concerts: one by harp ensembles from the Bern and Luzern regional music schools, and one by the festival's masterclass participants.
"Our concept is to create a real meeting for harpists of all ages and stages", says Anne Bassand. "For example, I teach at the Luzern Musikhochschule, and I am very happy to be able to work with my colleagues Franziska Brunner and Simon Bilger at the Musikschulen in Luzern and Bern on this project. It expands everyone's perspectives – the younger pupils can see what the older ones are doing, and vice versa; teachers can exchange their experience, and we can all learn something from each other. Music is something that develops through mutual support and interest. The more teachers work together, the more events there are, the more ambitious they are in their scope, and the higher the level. That in turn attracts more audience interest, so then more concerts are required, in a positive cycle.
I also think it's very important to connect international and regional music-making. Our programme ranges from performance platforms for local students, to concerts from international names, and also connects the two. For example, eight students will perform a piece together with Nikolaz Cadoret, which will be an amazing experience for them. We're highlighting artists from Luzern, for example a former pupil at the Luzern Hochschule, Stefanie Haller, will perform with her Duo Larkin, and I will give a duo concert with my flautist colleague at the Hochschule, Sarah Rumer. As part of our duo concert, we will give the world premiere of the flute and harp version of "Sternbilder Suite" by Gotthard Odermatt, a Luzern-born, now widely-celebrated composer.
We also called ourselves "HarfenFest" because it should also be a party, a celebration! I've invited artists I've admired from afar but not yet met, and also lifelong friends. One of the loveliest things about music is that there's often no cut-off between the personal and the professional, colleagues become your friends – and this is also why the chance to meet and get to know each other is so important. Gabriella Dall'Olio and I met twenty-five years ago when we were both students at Pierre Jamet's académie in Gargilesse, and have been in touch ever since.
I hope that all the participants will go home at the end of the weekend inspired and enthused by everything the harp can do, ready for a wonderful new season with their harps. I would also like to thank Camac Harps, the Luzern Musikschule and the Luzern Musikhochschule Luzern for their support in realising this event."
The HarfenFest courses and masterclasses are now full, but if you would like to participate, it is still worth contacting Anne, in case of any last-minute vacancies. Even if you have no masterclass place, you can still watch them, as well as attend the concerts – everything is free of charge. Our commercial team will also be in situ with exceptional practical opportunities. Our head technician Enric De Anciola will be offering free regulations of Camac harps (subject to reservation), and we'll hold a special exhibition for the duration of the festival.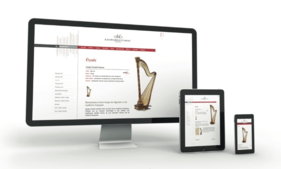 For all artistic / participation enquiries, please contact Anne Bassand. For commercial enquiries, please email us @ [email protected], and to book a regulation slot, please email Enric: [email protected] If you're not sure who to email, write to [email protected]