GRAND GIVEAWAY COUNTDOWN to the Festival Camac – 9!
Uncategorized
October 7, 2015

NINE! Nine days to go until the tenth anniversary of the Festival Camac, our annual festival that always takes place in a French-speaking region. Today's gift is a score by Kim Robertson, who will be representing the lever harp in our traditional "Harpélidoskope" concert on the festival's Saturday evening. It's from her latest volume of sheet music, Forget Not The Angels, and is Kim's contemporary take on a little-known O'Carolan tune. Kim has also recorded this collection, available to buy and to download here.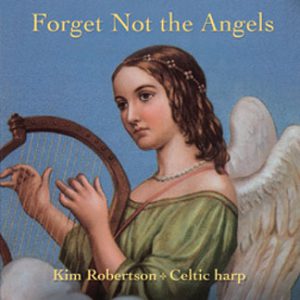 "I know there is no one precise definition of "Celtic", but "Celtic" is my artistic identity", says Kim.  Maybe it's  an advantage to be American, because I'm not inherently Irish, Scottish or Breton.  America is a country full of immigrants, and I was attracted to Celtic music simply because I loved it.  I grew up in the 1960s when the folk revival was going on – San Francisco, Bob Dylan, Joan Baez all of that – and for me the lever harp gave me the chance to rediscover music as a folk idiom.   It spoke to me much more than classical music, so I defected from the pedal harp.
Perhaps I had studied too much piano, but the pedal harp repertoire didn't seem as interesting, and the life of a pedal harpist where I lived in Wisconsin, hauling that huge instrument around in a wintry climate, and with no major classical scene – perhaps it would have been different if I had lived elsewhere, but it didn't appeal to me in Wisconsin.
Both classical piano and pedal harp are instruments that demand a lot of solitude, and I realised that the Celtic scene was a fun, sociable one.   With the lever harp I could play with different groups, and attend conferences where music was a team activity, where everyone was united in their love for and enjoyment of music.
I got a break in the recording industry playing new-age music, for relaxation and meditation.  I was lucky because I was one of the first Americans identifying with the Celtic harp:  the scene is much bigger now.   I enjoyed doing the recordings because they let me play whatever I liked, as long as it sounded relaxed and meditative.  I started composing then, to create tracks for the CDs.  That may be another benefit to being American: there's less judgement about changing careers.  I was a classically trained harpist playing Celtic music for a new-age label and it ended up changing and defining my career.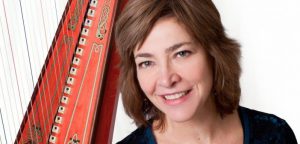 Since then, I've made a living recording and playing concerts on Celtic harp.   The record industry has changed dramatically; my recordings have gone from vinyl to cassettes to CDs, and now mainly internet downloading.  I also make arrangement songbooks and it's been fun meeting harpists who play them when I travel.  My goal is to make the music easy on the hands so the pieces sound appealing but are easy to sightread at gigs. I personally found classical music to be too stressful,  with the nerve-wracking auditions and performances.  Playing Celtic harp, I never feel stressed anymore because the music I play is more informal. I've  noticed that when I ask the audience what piece they'd like to hear again from a concert programme, they always choose a slow one, never a fast. There's a beautiful slowness in the Celtic airs, there's something about the space between the notes.  Maybe my job is communicating that space."
To receive the score of 'Catherine Martin' – it's not too late! Join the GRAND GIVEAWAY COUNTDOWN mailing list now!
[mc4wp_form id="2115″]