GRAND GIVEAWAY COUNTDOWN to the Festival Camac – 6!
Uncategorized
October 10, 2015

After two days of new music, our ten-day countdown to the Camac Festival turns its attention to historical instruments. We've designed a desktop wallpaper for your computers, phones and tablets, with pictures of harps from our collection of antique harps.
Camac's historical collection is a private collection that we keep for our own pleasure. It is housed in a dedicated space in our Mouzeil ateliers, and sometimes – as in Nancy – we put it on special display. The wallpaper we have created for you features some of the models we are most proud of.
Luthier : Erard France, Paris, 13 Rue du Mail. Début du XXe siècle (instrument no.3969, achevé le 5 décembre 1913). Modèle style Empire finition palissandre avec bronzes dorés
Etude (aquarelle) pour la harpe Erard modèle Empire. "Etude pour une harpe Erard", N° d'inventaire D.2009.1.1631, Fonds Gaveau-Erard-Pleyel, dépôt du Groupe AXA au Musée du Palais Lascaris, Nice
Notre Elysée, inspirée par les magnifiques modèles Empire de Sébastien Erard. Elle est également fabriquée en palissandre, avec des ornements en bronze doré. Les ornements sont inspirés de la harpe Erard no. 3969 de la collection historique Camac.
There are three versions of this magnificent Erard Empire harp: the watercolour study prior to the harp being built; the original itself, and finally, our modern Elysée, which we built in homage to the genius of Sébastien Erard.
This Japanese-style Erard (left) is very rare. We don't know how many Erard built, but the only other one we have ever come across was in Jean-Michel Damase's private collection. Our model corresponds to its sketch, apart from the absence of decoration on the soundboard. This leads us to suppose that either the soundboard was replaced at some point, or the instrument was a custom order, more sparsely decorated. While Chinese-style decoration was fashionable for both harps and furniture in the 19th century (as evidenced by other harps by Cousineau, Naderman, and Renault and Chatelain), this "Japanese" model appears to be almost unique.
Our green Naderman (right) is one of Naderman's last harps. It features the brass plate and the discs from Erard's patent. When you consider how much competition had existed between Erard and Naderman about their harps, it is interesting to see that Naderman eventually adopted what would become the standard for harp mechanism (even if he never made a double-action harp).
This late Naderman harp has an incredible sound, and will be played in concert in Nancy for the first time since the nineteenth century, as part of Elinor Bennett's recital on historical instruments.
Elinor will also perform on our Welsh triple harp.  Jakez is particularly fond of this instrument, not least because it took him ages to find! The triple harp is fully chromatic but is – as Elinor succinctly puts it – "considered to be rather difficult to play". The two outside rows of strings are tuned in the same key, but all the chromatic notes are in the middle row.
The triple harp ( also known as Arpa Doppia, and Arpa a Tre Registri) has three rows of strings, and was invented in Italy during the late 17th century, to give harpists more strings on their instruments, and be able to play the new music of composers such as Monteverdi and Trabaci. The instrument became popular in many European courts during the 18th century, including France and England. It was the only harp known to Baroque composers such as Handel (it was used by him in his Harp Concerto, and oratorios).
Welsh harpists of the 18th century adopted the triple harp, while it was forgotten elsewhere in Europe owing to the rise of single- and double-action instruments by Cousineau, Naderman and Erard. Later, the triple harp was also fiercely defended and promoted in Wales by the aristocratic, wealthy and influential Lady Hall of Llanofer. She established a triple harp factory on her estate in the south of Wales during the mid 19th century. The instrument in our collection was certainly influenced by the design of the Llanofer harps, with the harp resting on the left shoulder to accommodate the custom of old Welsh harpists of playing the bass with the right hand.
Recently, the triple harp has experienced a considerable revival as the traditional instrument of Wales, but most harpists choose to play in the modern way – with the right hand playing the treble! From historical records, we see that the triple harp was played mainly by men, but there were some excellent women harpists during the end of the 18th and first part of the 19th centuries, when the double-action harp was being developed by Erard and his colleagues.
Crossing back over from Wales to France, here is another harp without pedals and a lot of strings – 78 of them, to be precise!
In the August of 1894, Félix Godefroid and Alphonse Hasselmans asked Gustave Lyon, Pleyel's director at the time, to construct the sort of Erard double-action harp that had been suspended since 1855. This process would see the birth of the chromatic harp without pedals. The idea was to solve the inconvenient aspects of the double-action harp, by eliminating pedal noises and intonation problems. The result, however, was complicated. The harp consists of two rows of strings, one for white notes, one for black, crossing over in the middle of the harp. While it is true that any chromaticism is theoretically possible, equally this instrument cannot produce any particular glissandos…and it is also hellishly rather difficult to play.
Keen to demonstrate the possibilities of their ingenious instrument, Pleyel commissioned Debussy's Dances for the chromatic harp. André Caplet also composed a first version of his Conte fantastique, 'Légende' for chromatic harp and orchestra (1908). He later adapted this work for double-action harp and string quartet, in 1924.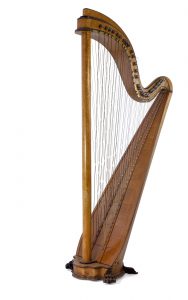 The instrument continued to be taught at the Paris Conservatoire, with dedicated chromatic harp classes between 1903 – 1908, and 1912 – 1933. The Brussels Conservatoire also had a chromatic harp class until 2005 (opened in 1900, closed in 1953, and reopened in 1978). Vanessa Gerkens created an association in 2006, in order to prevent the disappearance of the instrument and promote its renaissance.
We have already recently acquired a cross-strung harp that is definitely by Pleyel. This is not pictured, because it is currently being restored, and will be on display for the first time in Nancy.
Notes written with thanks to Laure Barthel and Elinor Bennett