GRAND GIVEAWAY COUNTDOWN to the Festival Camac – 5!
Uncategorized
October 11, 2015


Antique harps leads us to early music for day five of our great big countdown to the Festival Camac. Your present today is a movement from the most famous Baroque piece ever written for the harp in fact, Handel's Concerto in B flat. Recorded by Valérie Milot with the Montréal ensemble Les Violons du Roy, it is part of Valérie's most recent disc of Handel, Boildieu and Mozart. This album was hailed as "the greatest Quebec album of the year" by Le Devoir, no mean achievement for a harp CD.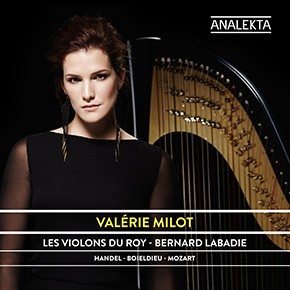 We have long admired Valérie for her unfailingly successful combinations of creative ideas with impeccable taste. It is much harder than it looks consistently to marry musical integrity with a light touch and perfect presentation, otherwise everyone would be doing it. Her beautiful videos, her discography, and her collaborations are all diverse, artistically rigorous, and immaculately presented, and her work has deservedly achieved widespread recognition. She was the first harpist for nearly a century to win the Prix d'Europe; she also won the Young Soloist's Prize from the francophone public radio stations; was crowned Revelation of the Year by Radio Canada, Discovery of the Year at the Opus Awards, and she received the Prix des arts de la scène Louis-Philippe-Poisson, from the city of Trois-Rivières. In 2013, she was also given the Prix Trois-Rivières sans frontière for her exceptional standing both nationally and internationally.
I want to enable video content and agree that data will be loaded from Google (see
Privacy Policy
).
Some of Valérie's Boildieu from her acclaimed disc is available on YouTube, but to hear the Handel you'll have to sign up to our special countdown mailing list – or come to Nancy! We're looking forward to hearing Valérie play Handel again, live in Nancy as part of our opening concerto evening.
[mc4wp_form id="2028″]