GRAND GIVEAWAY COUNTDOWN to the Festival Camac – 3!
Uncategorized
October 13, 2015

Three! As the Festival Camac draws ever-closer, today's free gift is a recording made by Valeria Voshchennikova especially for the occasion – of her countryman Glière's famous Impromptu.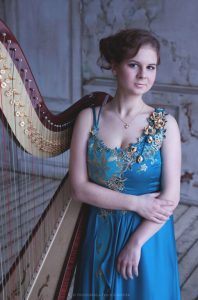 Valeria Voshchennikova is one of the most promising young harpists of her generation. Born in Moscow in 1992, she obtained her diploma from the Gnessin Special Music School, in the class of Milda Agazarian. She is now studying for her master's degree at the Russian Academy of Music. Valeria is the winner of numerous international prizes, including first prize at the Wales International Harp Competition in Caernarfon in 2014.
Valeria will open our "Harpélidoskope" concert in the Grand Salon of Nancy's city hall, flying the flag for the classical harp. Glière's Impromptu is on her programme, as are works by Dussek, Liszt, Prokofiev and Damase.
"I chose this programme to show harp music of different epochs and styles", Valeria says, "from the elegance of the classical sonata (Dussek), to the dramatic, Romantic changes of moods in Liszt's Un Sospiro. I also wanted to highlight the radiant harmonies of some of our music from the twentieth century, with Prokofiev's Prelude in C, and Sicilienne variée by Damase.
My programme also combines French and Russian cultures. Jean-Michel Damase was a French composer, Henriette Renié, who arranged 'Un Sospiro' for harp, was a great French harpist, and Jan Ladislav Dussek worked and lived in Paris for many years, enjoying the special patronage of Marie Antoinette, and great popularity with the public. As for Russia, Glière's Impromptu and Prokofiev's Prelude are two of the best-loved masterpieces of the Russian harp repertoire. I particularly love the Impromptu: one of the few harp works that is like the essence of Russian music. It's festive and brilliant, and in the same time so intimate and heartfelt."