GRAND GIVEAWAY COUNTDOWN to the Festival Camac – 2!
Uncategorized
October 14, 2015

The Festival Camac starts the day after tomorrow in Nancy, and in fact we're already there, in rehearsals for Friday's big concerto evening. Today, something you don't get to hear so often – a recording by Elinor Bennett, on the Welsh Triple Harp. Elinor will give a concert on Saturday afternoon, on instruments from our historical harp collection, including the Triple Harp it took Jakez so long to find.
We've already heard the Handel concerto on a modern instrument, from Valérie Milot and her Atlantide on day five of our countdown. The Triple Harp was, in fact, the only type of harp Handel knew, and the B Flat Concerto was originally conceived for this instrument. We know that the blind Triple Harp virtuoso, John Parry, performed the Handel concerto (there are accounts of him doing so in London in 1741, for example) – and he probably entertained Handel on several occasions, being frequently in London with his patron, Sir Watkin Williams Wynn. Sir Watkin was an influential Member of Parliament with homes in both Ruabon and London, and "Blind Parry" enjoyed considerably better and more cosmopolitan acclaim than most of his contemporaries, at a time when most harpists had a very meagre existence. His blindness had little effect on his musical career – he travelled extensively, giving concerts repeatedly in London, Cambridge, Oxford, Leeds and even Dublin.
John Parry is also regarded as a pioneer in the field of publishing Welsh music. Today's recording is 'Nos Galan' (New Year's Eve), taken from John Parry's important British Harmony collection (1781). It contains forty-two airs, thirty-three of which had never been previously seen, and a mixture of ballads, carols, popular Welsh melodies and harp airs. Other collections – such as the earlier Welsh, English, Scotch Airs with variations (1761), bear closer relation to the art music of the age than to Welsh traditional music.
John Parry wrote and performed both art music and traditional music. Similarly, while the Triple Harp is regarded widely as a Welsh instrument, this is due more to deliberate cultural adoption than traditional roots. This phenomenon is not dissimilar to the Breton Celtic revival, which in fact began life among Parisian intellectuals in the 1950s. The Triple Harp, for its part, first appeared in Italy in the late 16th century. It succeeded the large "Arpa Doppia" with two rows of strings, and became well-established in French and Italian musical circles. Performance on the instrument was probably limited to aristocratic circles: Martin Mersenne writes in his "Harmonie Universale" of 1636, that it was the harp of the "cultured few".
It was a French harpist, Jean Le Flesle, who introduced the Triple Harp to the English court of Charles I (1629 – 1641), and it had become firmly established in London by the reign of Charles II (1649 – 1685). It was quickly adopted by Welsh harpers in London in the late 17th and early 18th centuries, and taken back to Wales: only at this point did it become widely regarded as the "Welsh harp". A hundred years later, Welsh society marginalised it: religious zealots were on a crusade to remove any vestiges of the devil, and as the harp was associated at that time with pubs, fairs, dancing and rude songs, many triple harps were burnt. The Triple Harp was kept alive by itinerant gypsy harpers, and later brought back into respectable society by enthusiasts, notably Lady Llanover in the 19th century. And then, after Lady Llanofer's death in 1896, no Triple Harps were made in Wales until the late twentieth century, and double-action harps were played instead.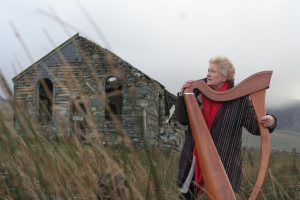 Throughout all this, the harp has remained a national symbol of Wales. "The harp in all its guises is our national instrument", says Elinor. "In Wales, my experience when I was growing up is that there was no distinction made between any kind or genre of music. I would follow a folk song with a Mozart song, and play any arrangement of a Welsh folk song by John Parry or John Thomas, alongside Scarlatti or Dussek."