First "Harpes en Loire" Festival
News
September 30, 2015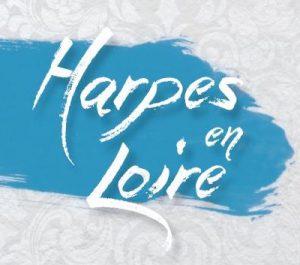 We are delighted to be sponsoring a new initiative from François Pernel, with whom we have recently collaborated to create our Excalibur harp, and Aude Fortict. François teaches in Chemillé, Juigné and Brissac, all in the Loire Valley in France, and he had had the idea of a festival running through his mind for a while: "I have been living in the Loire Valley for the last five years. Before this, whenever I drove through the region, I would say to myself what a beautiful place it is, and how much I'd like to live there. Finally, this happened! And while I was out walking along the River Loire, I started to dream of a festival. I organised a few smaller concerts, and discovered incredible places and a great deal of enthusiasm. I wanted to reveal the different facets of the harp to local audiences, and hoped that the idea would catch on throughout the region. For harpists, I wanted a calm, friendly, sincere festival, all qualities Aude Fortict and I value greatly."
François and Aude Fortict met during the Harpe en Aquitaine project in Marmande, and they are working together on the organisation of Harpes en Loire. "Aude teaches at the Agen and Marmande conservatoires, and I was invited to play there with Oak Ink. We stayed in touch, and realised that we both thought the same way – something along the lines of "I have an idea – OK – and the word 'impossible' does not exist!". I admire how Aude communicates about the harp, with such intelligence and commitment. We have subsequently developed a really nice collaboration together, also involving her students. We've recorded an album of my harp ensemble compositions, this year we'll run an exchange between the Loire Valley and Aquitaine harp classes, and I am writing pieces for their exams."
One of our festival's objectives is to put the harp at the centre of regional life, by marking the year with musical events. This is also why the first festival is happening across three sets of dates. "On the concert side, this stops us going overboard – you can have too much of a good thing. Sometimes festivals can be like stuffing yourself with too much food! I prefer to chew slowly, and digest easily!", says François Pernel. "We want to offer our audiences some agreeable cultural life, gently punctuated by the sweet sounds of the harp…"
Harpes en Loire will feature several concerts. On October 17th, François Pernel and Aude Fortict will perform in pedal harp duo.  Then, Tristan Le Govic will take to the stage on October 18th, with a concert of Scandinavian and Celtic music. The second festival weekend will follow on January 15th, 2016. It will begin with a concert of Irish music, and the following day Mariannig Larc'hantec will guide us into the universe of Breton legend. Finally, at the start of April, François's world music trio Galexya (harp, percussion and diverse other instruments) will perform, followed by Maël Lhopiteau, who will present his own compositions, and his personal approach to traditional music.
It is a rich, eclectic programme, full of the harp's multifaceted possibilities and identities, be they "classical" or "Celtic", pedal or lever. Incidentally, for all that the featured artists are those we are used to hearing on the lever harp, François emphasises that "the festival is open to all types of harp. Wearing my composer's hat, what I write dictates my choice of harp. Usually, it's true that for me that means the lever harp, but for all that I'm not showing pedal harps or any other harps the door! Our first concert is going to be a pedal harp duo. Personally, I think pedal and lever harp are two different instruments in their own right. They have their own, different repertoire, techniques and sounds. I like to see them share a stage, which validates their respective uses – and new timbres, new colours and new works. The idea that underlies all our programming is to find…those who are looking!
As part of this aim, we also want to run a composition contest in a future edition of the festival. We will be able to offer workshop participants music for pedal and lever harp, harp ensemble, and new music. We'll start by teaching everything aurally, but we'll give scores out at the end, to those who want to have them. Aural and reading methods should not be against each other, but rather complement each other."
The festival is expressly pedagogic in character. Every festival weekend, course participants will be divided into two groups (beginners and more advanced). They will work with Aude and François, and with an invited artist who will teach a two-hour session for each group. Participants will also be able to get to grips with harp ensemble pieces, composed or arranged by the teachers, across a broad variety of styles of music and ways to write for the harp. It is possible to sign up for one, two or all three courses. "Each course runs from Saturday to Sunday, from 9:30 AM to 6PM. This includes lunch on Saturday, and all concerts over the same weekend. On Sunday, a local bakery is going to supply delicious bread, so bring whatever you want to spread on it, and share around!"
The choice of guest artists also reflects François and Aude's desire for a warm, straightforward approach. For the first festival, these will be: Tristan Le Govic (professor of harp in Saint-Brieuc), Mariannig Larc'hantec (teacher and composer), and Maël Lhopiteau (concert artist and composer). "I've invited people with whom it is easy and fun to work! I have worked with Maël Lhopiteau and Mariannig Larc'hantec before, when I was less established. This is also a way to thank them for what they have done for me in the past. As for Tristan Le Govic, we got to know each other this summer. As well as being friends, all three guest artists are composers and arrangers too. So they belong to the festival's spirit."
Here, again, the fact that the festival happens in three parts is important. "Last year, we organised a course on a smaller scale. When we collected feedback, the pupils – especially the adult pupils – suggested having a basic course, with a follow-up. Three sessions allow those who wish it to practise between the weekends, and particularly for the closing concert which will take place on April 3rd. This concert, by the course participants, will consist of everything that will have been learnt and worked on during all three courses. It will mostly feature ensemble pieces, but also solos that will have been prepared as part of this."
There isn't long to go now before the first weekend! Don't miss the start of Harpes en Loire, this coming 17th and 18th of October!
For further information and to sign up, please contact François Pernel: +33 6 09 80 14 26, [email protected].