A day with Tara Minton…
Uncategorized
December 9, 2015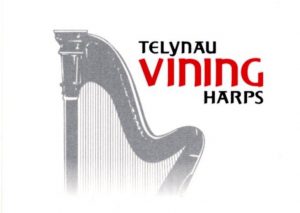 As with the recent Princeton Harp Festival, our involvement in the Cambridge Jazz Festival was a collaboration with one of our international partners. We have a wide network of distributors over the world, and we often co-sponsor projects with them. I was delighted to be able to go to Cambridge with Telynau Vining Harps! Telynau Vining is based in Cardiff, but like us is frequently on the road with exhibitions, events and regulation opportunities.
It takes particular force of character to be a harp distributor in Britain, because every time you unlock the back doors of the van, God realises you are about to move thirty harps and sends hurricane gusts and torrential rain to be your guide. Undeterred, we set up in Clare College's attractive Garden Room, and welcomed a big turn-out of all ages and stages to Tara Minton's workshop. Working with lever and pedal harp alike, Tara began with modal jazz, before turning to harmonic jazz in the second half. In fact, participants didn't begin by playing their harps at all – but rather by breathing, and singing improvised melodies to express emotions called out by Tara, such as happiness, or anxiety. Everybody, no matter how young, got a chance to solo against the backing of the harp big band, and everyone left with a good overview of the different possibilities available, if you dare to exit your classical comfort zone.
The gap between the workshop and the Tara Minton Quintet's gig in Clare's cellar bar was long enough for us to be able to regroup for a special exhibition with some convivial cheese and wine. Harpists could explore some of the latest instruments to be released from our ateliers, such as our Ulysse ultralight lever harps – much talked about, but not always easy to experience at first-hand, which is why we come to you. We set great store by travelling exhibitions: you don't have to travel far, the selection is always a special one, you can chat with us and get your questions answered, and there are often little gems to be had. For example, we had a DHC Blue Light in Cambridge: this normally has a six-month waiting list, but six months ago, Vining had ordered it for the purpose, waiting so you don't have to.
At 9:30PM, we rushed to bag a good sofa in the Clare bar, and settled down for a wonderful evening with the Tara Minton Quintet. We have long been fans of Tara's work – solo, in her trio, in a duo with guitar, in quartet or quintet. We love her soulful mix of great covers and fantastic original songs, which tell stories, and that make you tearful and get you dancing by turns. It was a beautiful evening, that made us feel very proud of Tara, and the rich expression she evokes with our blue harp.
The cellar bar was packed, and indeed packed concerts were a feature of the entire festival. The Cambridge Jazz Festival, the first of its kind, had some particular goals at its conception – one of which was to bring the jazz communities of the famous university, and the town, together. They invited international artists, and also local ones – or in some cases, invited international artists back home again. Tim Boniface, in Tara's Quintet playing most instruments (saxophone, keys, flugelhorn, guitar, vocals…), is one such Cambridge local. Following the harp day, I couldn't resist staying in Cambridge a bit longer and catching Tim's own concert. Sans harp, Tara was on vocals for this, as was festival organiser Roslin Russell. The concert took place in the Hot Numbers café, was also packed with both students and locals, and was a fantastic afternoon of community music-making: everyone coming together to have a great time with jazz.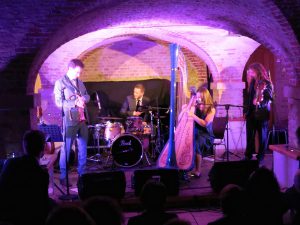 Keep an eye on Tara's website, as there'll be big news from her in the coming months. You can also enjoy her sound and videos, and her highly entertaining blog about gigging in London. The streets of London may or may not be paved with gold, but it's always been a rich seam for gig stories. All human life is there, and that's jazz too…