The Camac Festival will also be in…
News
June 20, 2016
…Pasadena CA! After a decade of our trademark festivals in France,  we are taking our concept to the West Coast of America.  It's time to save the date for the Camac Festival, USA. Between November 11 – 13, 2016, join us for an exceptional program of international artists,  workshops and masterclasses, across the harp's many facets.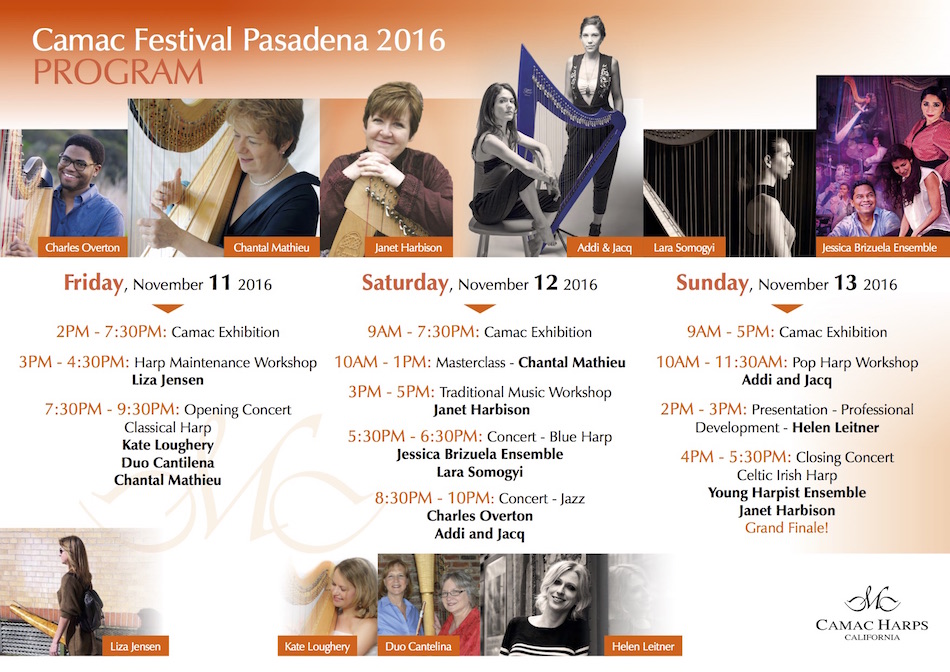 As a wonderful representative of the classical pedal harp, we have invited Chantal Mathieu. Of French origin and Swiss by marriage, Chantal was born in Lille, France. Her music studies started very early, with solfège and music theory at the Lille Conservatory from the age of five!  At six, she discovered the harp and the piano.  At thirteen, she was a semi-finalist at the 3rd International Harp Competition in Israel, and the following year, she received her First Prize from the Paris Conservatoire. In 1970, she won first prize at the Israel Harp Contest, and a wide range of other prizes followed. She was then appointed Principal Harpist with the prestigious North German Radio Orchestra in Hamburg, Germany, and was also professor at the Conservatory and state music school in the same town.
In 1977, she moved to the French-speaking part of Switzerland, and took up a post at the Lausanne Conservatory. She has always laid special emphasis on music of all genres, teaching her students not only the solo repertoire, but also chamber music and contemporary music; she organised jazz seminars, and also embraced the huge wealth of world music there is to enjoy today. Chantal Mathieu also gives masterclasses all over the world, from Japan to Australia, Korea, the United Kingdom, Israel, Germany, Spain, France, Italy, Russia, the United States, and recently in Brazil and Mexico.
Her eclectic tastes and her vast talent have led her to premier many new pieces. These include the septet "Chantal" by Franco Donatoni;"Jeux Poétiques en 6 mouvements" by Jean Françaix; and many new works by composers such Jean-Michel Damase, Bernard Andres, Ami Maayani, Julien-François Zbinden, Eric Gaudibert, Michel Zbar, Thomas Lauck and Michael Jarrell. As a soloist with orchestra, she has performed with major orchestras like the Berlin Philharmonic and the Orchestre de la Suisse Romande; accompanied by well-known conductors such as Sir Neville Marriner, Emmanuel Krivine, Gerd Albrecht, Horst Stein, and Heinz Holliger.
Chantal Mathieu's discography is also extensive. She has made over twenty recordings, including her well-known discs "Bach on the Harp", "Marcel Tournier Works for Harp", and – latest album! – "Mallorca". She was Artistic Director of the World Harp Congress in Geneva in 2002, and is currently writing a thesis on medicine in the arts.
Turning to traditional music, we are delighted to welcome Janet Harbison, doyenne of the Irish harp and the inspiration for the harp we made to her specifications and in her name – the Janet.  For many years since, Janet has brought the Irish harp to audiences nationally and internationally, and has paved the way for many of the new generation of harpers who are the leading performers today. After a career of over 40 years of working in the Arts, Music Education and Peace and Reconcilliation (in Northern Ireland), in 2016 Janet moves her focus to research and writing on the value of oral music learning to universal music education.
Janet Harbison has been a prolific composer of new works for the Irish harp, as well as a celebrated arranger with over 100 publications. With a strong sense of purpose and value in the music, the harp, its heritage and power to build bridges of friendship, in the course of her 18 years in Northern Ireland Janet established the Belfast Harp Orchestra in 1992 to 'tell' a more harmonious story from the 'troubled' province. Comprising over 20 harpers with guest musicians, singers and dancers, the orchestra performed throughout the western world – in its own right, and also as guest artistes of the Chieftains (with whom they won a Grammy Award in 1993).
Galvanising support for the Irish harping revival,  Janet founded Clárseoirí na hEireann ('The Harpers' Association') in 1983; organised many summer schools, festivals and conferences, and  established a permanent facility for the harp at the Irish Harp Centre in 2002. Janet also created the Irish Harp Orchestra movement – and we'll be able to profit from her ensemble experience in Pasadena as well, as she leads an ensemble of young harpists in our festival Grand Finale.
Thanks to fantastically creative contemporary artists, and ever-more reliable electric and electroacoustic instruments, jazz/pop harp is a niche no longer. This aspect of the harp has been particularly developed in the USA, and it is three American artists who will show you just what the contemporary harp can do! We discovered Addi & Jacq in Princeton last year – not that we were the first to do so, for they'd already won the 2015 NPR-WNYC Battle of the Boroughs. The Los Angeles Times praised vocalist Addi McDaniel as a "a powerhouse with a brass-plated voice," and paired with "exceptionally virtuosic and sensitive harpist" Jacqueline Kerrod (Classical Source Online), they bring you a sound that "transcends genre, unlike anything you've heard before" (Bob Power, grammy-winning producer). We couldn't believe we were listening to a duo – their sound is huge, cleverly boosted by loops and processing, and their mix of covers and original songs is quirky, hugely varied and always attention-grabbing.
I want to enable video content and agree that data will be loaded from Google (see
Privacy Policy
).
Lara Somogyi, a California native from nearby LA, is no stranger to Harpblog's pages. Through her work with pop artists such as Guy Chambers, Rufus Wainwright, and Mark Ronson, she developed a passion for modern recording and production which sparked an interest in the creative possibilities of the electroacoustic harp. This led her to our Big Blue electroacoustic harp.  She ran a fantastic Kickstarter campaign to acquire a Big Blue and launch an ongoing covers project, and we love to follow her work. Through her partnerships with Camac Harps, Roland/BOSS, Earthquaker Devices, and Walrus Effects Pedals, she continues to explore and innovate with the Blue.
Continuing the American lineup, we're looking forward to hearing the Jessica Brizuela Ensemble. A graduate of Felice Pomeranz's famous class at the Berklee College of Music, Jessica has joined a new harp generation trained not only in classical but also jazz, latin, and other contemporary styles. Her Latin Ensemble with Francisco Ruiz (vocals) and Lorena Perez Batista (percussion) explores new directions for our EC Llanera and Little Big Blue. Charles Overton will also be flying the flag for the Berklee class in Pasadena – and we will also enjoy chamber music, with Laura Porter and Nancy Wallace as Duo Cantilena. Laura is Principal Harp with both the Fresno Philharmonic and the Bakersfield Symphony Orchestra. Nancy is Principal Flute with the Bakersfield Symphony Orchestra.
There will also be a special exhibition of Camac's latest models, free regulations of Camac harps, and instrument maintenance sessions with Liza Jensen, Camac's principal touring technician. Entry to all concerts and classes is free of charge. You can also benefit from special rates with the Sheraton Pasadena hotel, and with Uber from LAX airport.
Shore up your places by booking early with our partners in California, Pacific Harps: +1 626-791-6262, or email [email protected]. You can also find us with a festival stand at the upcoming AHS Conference in Atlanta!