The Camac Festival will be in…Marseille!
Uncategorized
June 22, 2016
Marseille!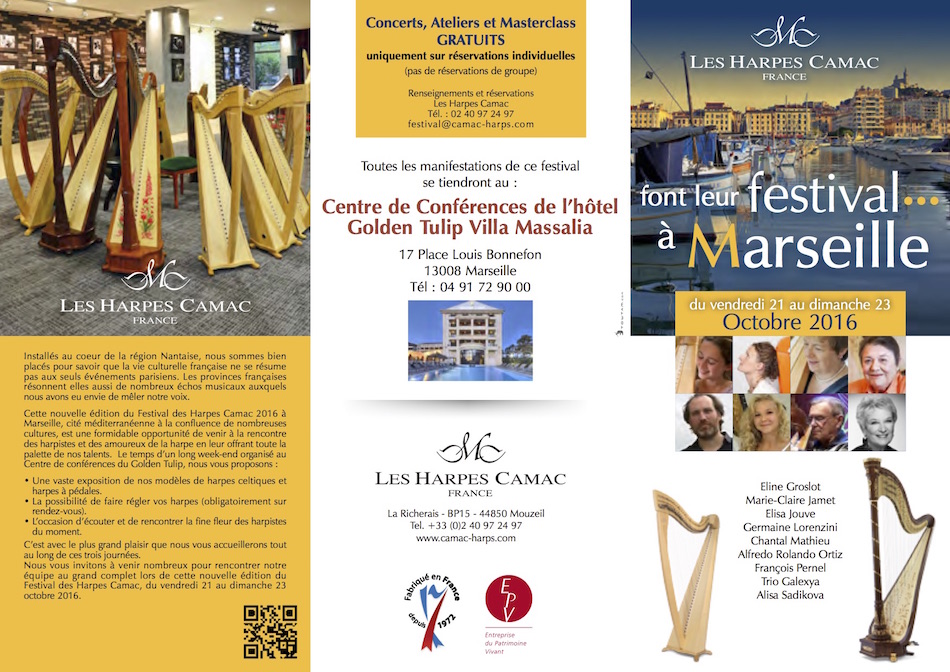 We may be taking our Camac Festival concept to the USA this year, but that doesn't mean that we are stopping its regular occurrence in France. This year, we're heading south, to Marseille! From October 21 – 23rd, 2016, we will be installed in the Golden Tulip Villa Massalia hotel, for our customary three days of top-notch artistic and commercial opportunity.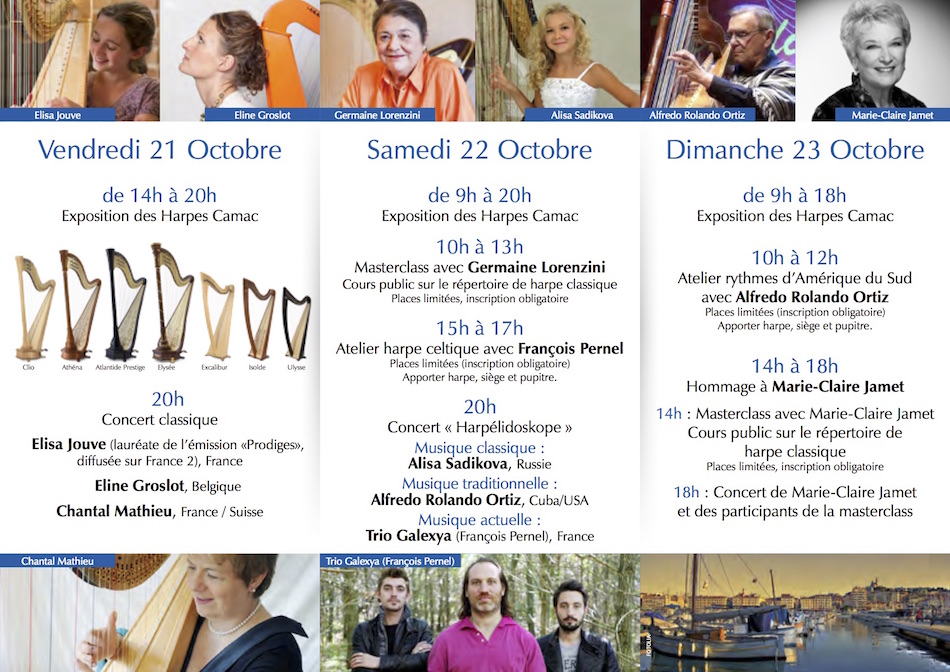 We'll begin on Friday afternoon, with the opening of what is always the biggest travelling exhibition of our season. You'll have the chance to discover both many of the finest new harps fresh out of our workshops, and also the best second-hand sortiment of the year. While you are browsing the exhibition, our technical team will be on hand to carry out free regulations of your existing Camac instruments, subject to reservation.
The artistic programme will begin on Friday evening, with a classical concert by some of the harp's finest artists across the generations. Elisa Jouve, the fourteen-year-old instrumental winner of the French TV competition 'Les Prodiges', and who we were also delighted to hear recently at Harpes Au Max, will begin the evening. She will be followed by Eline Groslot, Principal Harp with the Brussels Philharmonic. Finally, the distinguished Franco-Swiss professor Chantal Mathieu, of the Conservatoire de Lausanne, will take to the stage.
Saturday morning will find the Camac boys – bright-eyed and helpful as ever – on the exhibition stand from 9AM. Shortly afterwards, Germaine Lorenzini (a native of Marseille!) will give a masterclass on the classical harp repertoire. Places for this are limited, so please get your application in in good time! After lunch, lever harpists will have the chance to work with a star in their firmament, François Pernel. François is one of the most creative and original exponents of the lever harp today, fusing traditional, classical, jazz and avant-garde music in the most unexpected and successful ways. Don't miss your chance to work with him in person – and to experience his trio Galexya the same evening.
Saturday night is always 'Harpélidoskope' night at the Camac Festival, the idea being to reveal the harp across its diverse genres. As well as Galexya, we will also feature classical music, and another prodigy – Alisa Sadikova from Russia, whose video of Zabel's La Source broke the harp internet, and whose extraordinary talent goes from strength to strength. And, crossing the pond to South America, we're very honoured to welcome Alfredo Rolando Ortiz, master of the Paraguayan harp. Watch this space for an in-depth interview with him on Harpblog!
Many of you will be familiar with Alfredo's extensive collection of books and sheet music. The key to successfully performing South American music is the incredible variety of rhythms, and Alfredo will give a workshop on Sunday morning on this topic. Again, places are limited, so please book early.
Our festival will conclude with a homage to the great French artist, Marie-Claire Jamet. A public masterclass will be followed by a concert given by the participants, and Marie-Claire herself.
As ever, entry to all events is completely free, but you do need to book. Please do so with us directly at our head office in Mouzeil: +33 2 40 97 24 97, or by emailing [email protected]