Belgium Lever Harp Days, January 23rd-24th, 2016
Uncategorized
January 5, 2016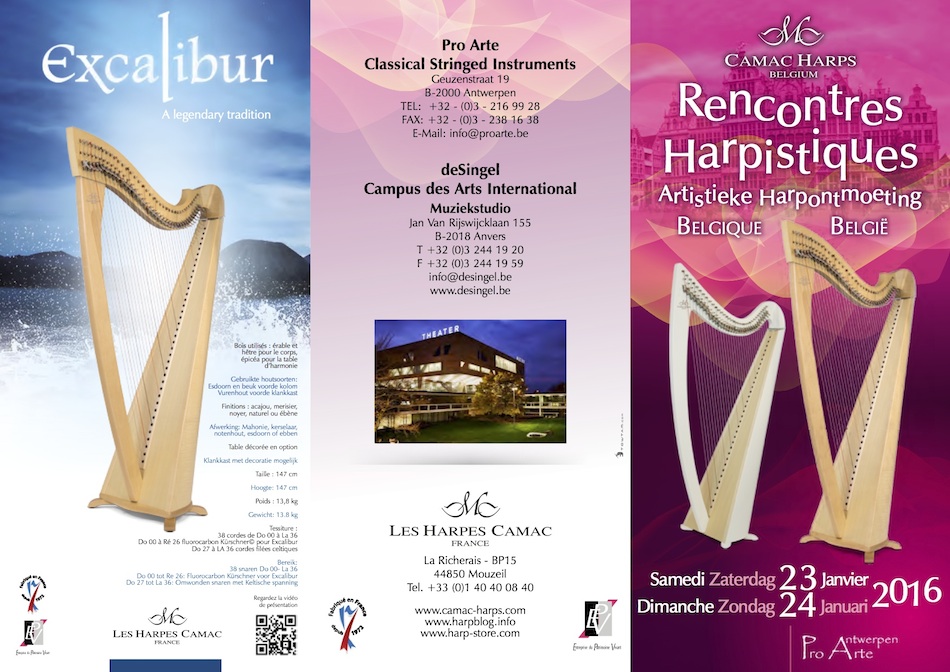 On January 23 – 24, 2016, we decamped from the Geuzenstraat to the deSingel campus, for a weekend of concerts and masterclasses with Elisa Vellia and François Pernel. This was to present the two new lever harps Camac has developed in collaboration with these two wonderful artists: Excalibur (François) and Ulysse (Elisa). We were also delighted to welcome our colleagues from the French team, who provided free regulations for Camac clients, and a special selection for an extended exhibition.
Une Ulysse aux finitions personnalisées était exposée à Antwerp : bleu marine avec des leviers plaqués or et des décorations en or
Ulysse is the new crown of Camac's lever harp range. An ultra-light, highest-quality concert lever harp created together with Elisa Vellia, the Ulysse is a 34-string harp that weighs just over 8 kg. Elisa dreamed of a robust, light and reliable harp, with a deep and rich sound, for traveling to audiences throughout the world. Her own career has seen her travel far and wide, from her native Corfu, to London (where she discovered the lever harp), and on to Brittany, now her home.
"Perhaps the idea of constant travelling fascinates us because of its transformative aspect", Elisa reflects. "If you emigrate, you quickly find yourself between two countries. You are not fully at home in your adopted country, and also not in your homeland anymore. That can be unsettling, particularly if you haven't emigrated by choice. It's easier if you choose to do it. People often ask me if it was not hard to leave Corfu, where I am from, and which is a very beautiful island. But you see, while I may have left Corfu, this was a free choice of mine and I could go back at any time. This choice gives me strength. So it is easier to enjoy all my travelling, because it is more about exploration and discovery, and less about being uprooted. All travellers need a stable point in the end. Ulysses also returned home, for all he needed time before he did so.
Musicians are great travellers. Apart from the fact I've never severed my roots with Greece, the harp is also a stable point for me. If it is by my side, I feel at home. The advantage of not belonging fully to any one country, is that it's easy to feel comfortable in many different places. Many musicians wake up in a hotel and have to take a moment to remember what city they're in. But if they have their instrument, their colleagues, their music, they're at home."
I want to enable video content and agree that data will be loaded from Vimeo (see
Privacy Policy
).
A few months after Ulysse, Les Harpes Camac released Excalibur. This spectacular harp is the result of another close collaboration with a sensational artist: François Pernel. In fact, it isn't the first Excalibur harp Camac has made. One was part of their range in the time of Joël Garnier, but like King Arthur's mythical sword, this instrument no longer exists. Twenty years later, it has been reincarnated in a state-of-the-art form. It is a large lever harp, with a special double soundboard and a huge sound – and it is this impact and modernity which particularly defines the music of François Pernel.
In Antwerp, François performed with his colleague Gurvan L'helgoualc'h, from their Oak Ink Trio. Gurvan is normally a bassist, but appeared here on percussion – so convincingly, that we could not believe he is not officially a percussionist. "Maybe it is because I don't care about all that and just feel the music", shrugged Gurvan. Their entire programme consisted of tracks from Galexya, their fascinating, touching and transcendental new album. It is, of course, now available from ProArte, along with François's new collection of compositions for lever harp, "Les Amuses-Bouches". This last consists of sixty pieces for lever harp beginners, all with interesting, contemporary twists. "It looks to me as if there are enough works in C Major on this planet!", laughs François!
I want to enable video content and agree that data will be loaded from (see
Privacy Policy
).
We hope you enjoyed this stimulating weekend, full of new musical ideas and new developments in harp making, as much as we did! If you had to miss it, a selection of Excalibur and Ulysse harps are all available for you to discover at the harp studio of ProArte Antwerp.