Baroque Flamenco at the CPMDT, Geneva
Uncategorized
March 20, 2016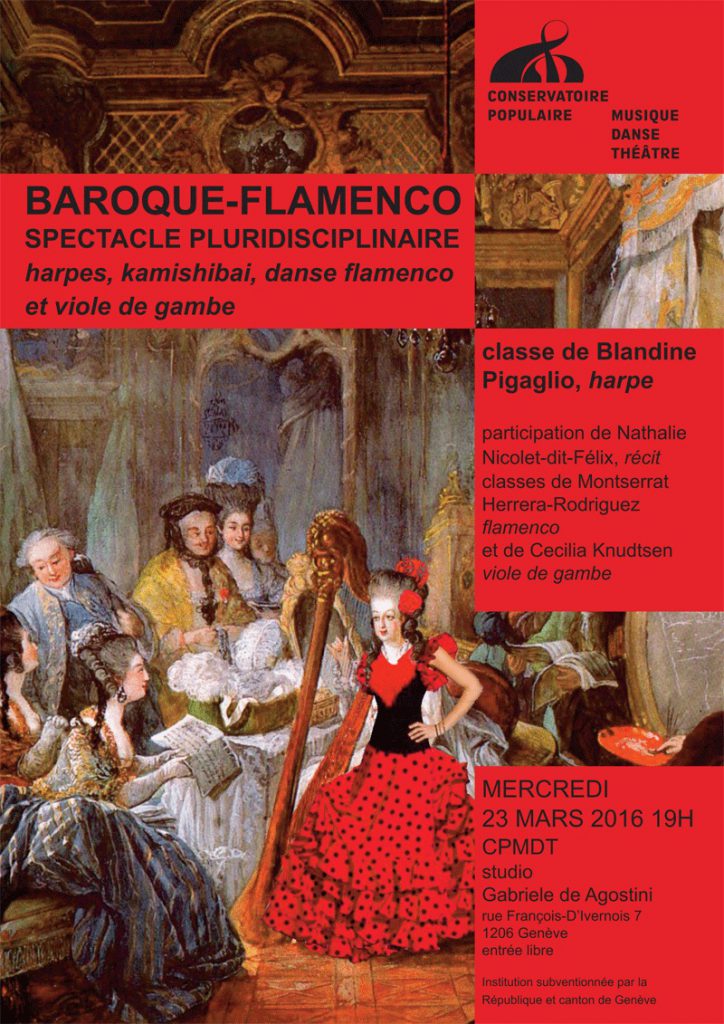 March 23rd is a good day for interesting harp concerts. Not only can you go under hypnosis with Rossitza Milevska and Geoffrey Secco in Paris, but you can experience Blandine Pigaglio's new project in Geneva. Blandine teaches at the excellent Conservatoire Populaire, where she and her pupils have created a show based around Deborah Henson-Conant's Baroque Flamenco.
"Our Baroque Flamenco" – Blandine writes – "is a journey through time and space, from Versailles to Andalusia, and bigger than ever before! On stage, you'll find seventeen harpists, a group of viola da gambas, some flamenco dancers…and many surprises, from a juggler, to Marie-Antoinette. There will be early music, Spanish music, solo and group improvisation, graphic scores, texts written by Blandine and even Japanese Kamishibai story-telling. You can't get much broader than that!"

If you're in Geneva at 7PM next Wednesday, entrance to the show is free. Turn up at the Studio Gabrielle De Agostini, CPMDT, rue François D'Ivernois 7, for a wonderful multimedia collaboration across the harp, early music and dance departments.