World Premier of 'Arpa Mestiza' by Leonard Jacome / Sasha Mäkilä / Malaysian Philharmonic
Latest
September 4, 2018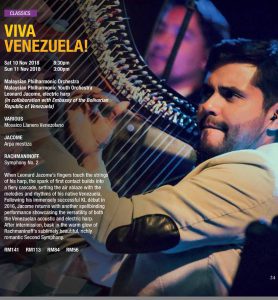 Leonard Jacome will be returning to the stage with the Malaysian Philharmonic, under the baton of Sasha Mäkilä, to premier 'Arpa Mestiza'. This is a new work by Leonard himself for Llanera, Electro Llanera and orchestra, written to show off what both these harps can do!  In collaboration with the Venezuelan Embassy, the concert will take place on November 10th and 11th, at Dewan Filharmonik Petronas in Kuala Lumpur. Ticket information is available here. 
You can get a taste of Leonard's last visit to Malaysia by watching the video clip below! You can hear Leonard performing solo, with big band and with the full orchestra. Venezuelan music expert Fernando Guerrero is also interviewed, talking about Leonard's music, and the Electro Llanera we developed in collaboration with him. 
I want to enable video content and agree that data will be loaded from Google (see
Privacy Policy
).