World Harp Congress, Hong Kong 2017: Sunday, July 9th
News
July 9, 2017
Every day – even Sunday – at the World Harp Congress starts with the exhibition doors being flung ceremonially open at 9:15. The Camac expo team – Eric Piron together with Thomas and Léo – are at your service every day until 17:45, across four exhibition rooms full of the best of our range. We have a Concert Grand room, a pedal harp room, a lever harp room and an electro room! 
It is also, of course, your chance to try our two new Concert Grand models, the Canopée and the Art Nouveau, for yourselves. On the WHC opening night, we were honoured to experience our ebony Canopée and cherrywood Art Nouveau, played by Chantal Mathieu and Alice Giles respectively.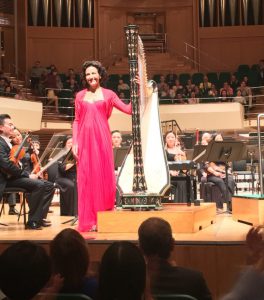 Yesterday, the Hong Kong Cultural Centre was the scene of a moment of great emotion for us, as Isabelle Moretti performed the Debussy Dances and the Ravel Introduction et Allegro, on an ebony Canopée. Isabelle dedicated her performance to Germaine Lorenzini. We all loved Germaine – musician, teacher, hero of music. There was no more fitting tribute to her than such a beautiful performance. 
Today, Jakez and I continue to enjoy the Congress's artistic programme. At 10:30, David Day, Clare McCague, Mary Louis and Teresa O'Donnell will present a seminar about historical harp research. We've been thinking a lot about this subject recently thanks to the exhibition of the Camac Collection, formally curated by Robert Adelson and now on display at the Château d'Ancenis. Performing musicians are, after all, always connected to the past. We play music that can be hundreds of years old. The adage that we study history to inform the present is more pertinent than ever in the context of classical music. 
We'll be able to contrast the organological discussion with a musicological one later this afternoon, when Jean-Philippe Navarre gives a lecture about the Boildieu Concerto. 
We're also looking forward to hearing our friends The Penang Harpers at another Asian Highlight Concert – this time with the spotlight on China and Malaysia. Katryna Tan, our partner in Malaysia and Singapore, is here with her fantastic Rave Harps ensembles. We have long been admirers of Katryna's work. She has built up a thriving harp scene in Singapore and Malaysia, practically from scratch. She has a beautiful teaching centre, she writes and produces harp operas, she has published a book, and runs countless interesting and constructive projects throughout the year. 
Another teacher we greatly admire is Milda Agazarian, who will give a masterclass straight after lunch. Many of the finest exponents of the formidable Russian School are graduates of Milda's class in Moscow: Maria Krushevskaya, Vasilisa Luschevskaya, Valeria Voshchennikova, and Veronika Lemishenko, to name but a few. 
At 4PM, Silke Aichhorn will perform the Concerto in D-Major by Johann Wilhelm Hertel, which has got us all intrigued! I also really enjoyed Silke's lecture at the recent AGM of the Verband der Deutschen Harfenisten in Ingolstadt. WHC featured composer, Paul Patterson, was in Ingolstadt too. The busy calendar of events organised by harpists, for harpists, feeds into each other and provides layers of invaluable experiences for us all – for all the work is largely unpaid and sometimes unthanked. 
At the World Harp Congress, it's never possible to attend everything you'd love to, so here's a roundup of our highlights for today. West to East jet lag can cause the most hardy of Camac road warriors to lie in their hotel bed, pleading feebly to be left to die. Not here! The joyous rhythms of South America will wake us up. Cristina Braga and Ricardo Medeiros have created an entire identity for the Blue Harp, with their beautiful interpretations of Brazilian music. If you haven't yet discovered them, they tour often – or you can peruse their recordings here. As well as being Professor of Harp at the University of Rio, Cristina Braga also frequently runs courses at her idyllic base in the heart of the rainforests near Rio. Her collaboration with the Jazz Harp Foundation is a recent example. 
As the evening approaches and Hong Kong's spectacular night skyline lights up the horizon, we'll be taken in jazz and crossover directions: Raoul Moretti with the Hong Kong Wuji Ensemble. 
Watch our social media feed for more news and updates as the day goes by!