Raoul Moretti brings Harpscapes to L'Espace Camac
News
March 31, 2017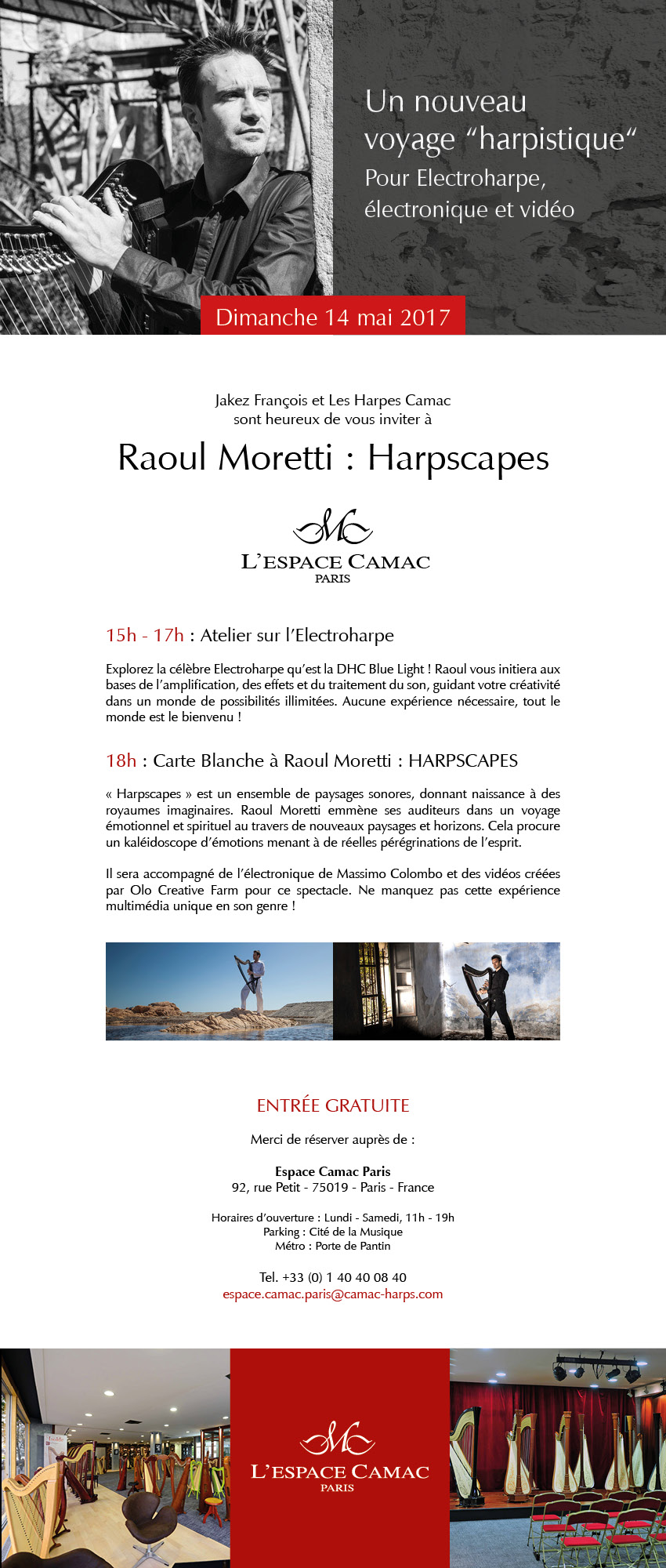 Raoul Moretti is going on tour with Harpscapes, his fascinating multimedia installation with the DHC Blue Light centre-stage. On Sunday, May 14th, he's coming to L'Espace Camac, our flagship showroom in Paris.
The afternoon will begin with an electroharp workshop, from 3-5PM. Explore the iconic electroharp that is the DHC Blue Light! Raoul will guide you through the basics of amplification, effects and sound processing, guiding your creativity into a limitless world of possibilities. No experience necessary: everyone is welcome!
At 6PM, you will then have a chance to experience Harpscapes for yourselves. With electronics by Massimo Colombo and visuals by Olo Creative Farm, this one-of-a-kind multimedia experience is not to be missed! We first discovered it in Croatia, and we can't wait to see it again.
I want to enable video content and agree that data will be loaded from Google (see
Privacy Policy
).
Admission to the Harpscapes day is free, but please reserve your places in advance with Olivier and Sébastien:
92, rue Petit – 75019 – Paris – France
Opening hours: Monday – Saturday, 11AM – 7PM
Parking: Cité de la Musique
Metro: Porte de Pantin
+33 (0) 1 40 40 08 40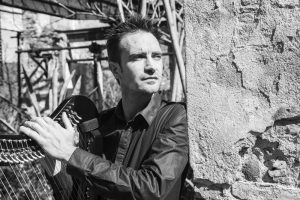 Raoul Moretti is a versatile and many-sided harpist with a very personal approach to the instrument. In search of his personal style, he has forged a highly original career path. His many interests have inspired him to engage in different musical worlds, and across artistic disciplines.
His studio and live collaborations include with the showman Fiorello and his orchestra, playing in the Saturday evening show with artists like Anastacia, L. Kravitz, M. Bublè, P. Daniele, and E. Ramazzotti. Raoul has also worked with the singer Beppe Dettori, with P. Fresu and Tenores de Bitti; with the Canadian cellist Julia Kent; the actress Isabella Carloni; the writer Michela Murgia; the video artists Olo Creative Farm; the project Nichelodeon; and many others. Raoul has also created many individual projects, for example Vibrarpa (Vibes & Harp), Essential Duo (pop voice & harp) and electroharp and electronics installations, Harpscapes and Harpness.
Raoul Moretti is the Artistic Director of the International Festival Arpe del Mondo-Sardinia. He has performed in Italy, Switzerland, France, Belgium, China, Paraguay, Chile, Brasil , Croatia, Serbia ,Mexico, Venezuela, Dominique, Martinique and Australia.
Can't make it to Paris? This summer, you can also experience Harpscapes on quite a few other occasions! On May 20th, Raoul will be performing at the Conservatorio di Musics in Pescara, Italy. On June 30th, he'll appear at the Sentmenat Festival, and on July 21, in Cagliari at Arpe del Mondo. On July 27th, Raoul will be in Bulgaria as part of our partner Angela Majdarova's summer course. In the Autumn, he'll go to Poland and Slovenia. Last but not least, he will also be performing Harpscapes at the World Harp Congress, on July 9th with the WuJi Ensemble, in the Hong Kong City Hall.