Harp Weekend in Indonesia
News
April 19, 2017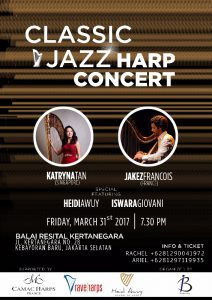 Many thanks to Heidi Awuy, our partner in Indonesia, for this report on their recent harp weekend! The event featured a special classical-jazz crossover concert with our very own Jakez François.
"East meets West, and classic meets jazz – on the harp! The harp weekend kicked off with a memorable classic & jazz concert – the very first such event in Jakarta, Indonesia. The atmosphere was thick with the audience's enthusiasm, and curiosity to see how jazz music will be played on harp. Katryna Tan opened the concert with classical repertoire, starting with "Claire de Lune", and ending her set with a harp duet piece with Heidi Awuy. On the beautiful Blue Harp,  Jakez François then performed solo jazz pieces, followed by a duet with Iswara Giovani on the piano ("Summertime"). The concert concluded with an incredible encore where the four musicians – three harpists and one pianist – all played "Take Five" together.
In the following couple of days, harpists attended master classes. In the Jazz Workshop by Jakez François, harpists explored jazz on the harp, and then put what they had learnt into practice in a harp ensemble. Katryna Tan's session, "Unleash the Harpist in You", taught the attendees how to 'upgrade' themselves as a harpist. In this session she explained about the values that harpists need in order to bring out the best in themselves, especially for efficient practicing.
Sunday was the last day of the Harp Weekend. All harpists who attended the workshops put together a mini concert, to show their family what they have learned in the past two days. We enjoyed fantastic performances, saw that everyone had indeed learnt a lot, and we all had a great time! It is really exciting to see how the harp community in Indonesia is flourishing and we cannot wait for the next harp weekend!
This event was presented by the Heidi Awuy School of Harp, Indonesia, in collaboration with Camac Harps France and Camac Singapore/Rave Harps Singapore."
Heidi Awuy