News
June 27, 2016
Did anyone watch the USA International Harp Contest live on YouTube? I did. It was incredible to be able to experience the competition almost as if I were sitting in the front row in Bloomington, when I was actually in a dark, deserted office in the late evening in Europe. Videostreaming has opened up all sorts of possibilities – and another is Skype lessons. These have transformed the lives particularly of students in remote areas, of autodidacts, and of many others who for whatever reason are not in a position to attend a weekly lesson face-to-face.

Évélina Simon has been teaching via Skype for ten years. She has now taken this to the next level, with the launch of a stunningly professional online school for harpists – harp-school.com!
"I have given skype lessons for a while now – and I have posted free tutorials on YouTube for years", Évélina explains. "I had very good feedback about these, from people who had trouble finding a harp teacher, and also from people interested in expanding their technique and repertoire. My partner is a guitarist, and was familiar with more extensive online schools. He is also a web designer, so we put the project together, together!
We already have a broad range of subscribers – particularly from France and Italy, and also Canada and the USA. We're working on recruiting more teachers for our webcam courses. Ameylia Saad will join us from September,  and my vision is that we will be able to offer lessons with teachers in many different languages, so that people can learn easily online, wherever they are."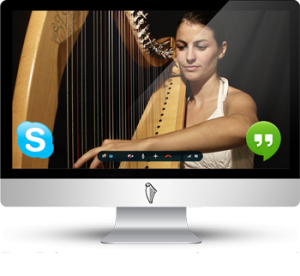 Évélina's new online resource combines online video lessons, sheet music, a students' forum to chat and exchange experiences, and will soon also feature webcam courses and an online shop. Once you sign up, you have all the materials at your fingertips, all the time – on your computer, on your phone, or on your tablet. There are over 1000 courses already, starting at beginner's level, and move on all the way up to masterclasses by star artists such as Deborah Henson-Conant, François Pernel, Lara Somogyi and Şirin Pancaroğlu. Harp-School features courses across a large variety of genres, from pop, Celtic and classical, to film music, Latin and world music, and even Reggae! It is a chance to explore new harp horizons, and it can also be combined with traditional courses.
There is a range of subscriptions available, starting at ten dollars. There is also a special 20% discount until June 30th to celebrate #musicday.