Félix Godefroid International Competition 2022: results of the "Soloist" category, first round
Latest
April 9, 2022
The following candidates will proceed to the final of the "Soloist" category at the Félix Godefroid International Harp Competition: 
Anna-Lena Killinger (Austria)
Hannah Cope (USA)
Nagisa Tanaka (Japan)
Ilektra Peleki (Greece)
Johanna Dorothea Gorisen (Germany)
Special commendation for the best performance of "Magellan" by Vincent Ghadimi : Olivia Debradandere (Belgium) 
Bravo, and best of luck for the final! 
The five finalists will perform Debussy's Danse Sacrée and Danse Profane, accompanied by the orchestra of the Chapelle musicale de Tournai, a work of their choice by Félix Godefroid, and complete their 28-minute programme with free choice works. 
A propos Godefroid: there are some excellent resources out there for curious harpists wishing to explore this beautiful (and substantial!) body of work. These are summarised here on the Camac blog. 
Speaking of compositions for harp: the Godefroid Competition's Soloist competitors have all had the opportunity to perform the commissioned work, Vincent Ghadimi's Magellan, with the composer himself in the jury (pictured below).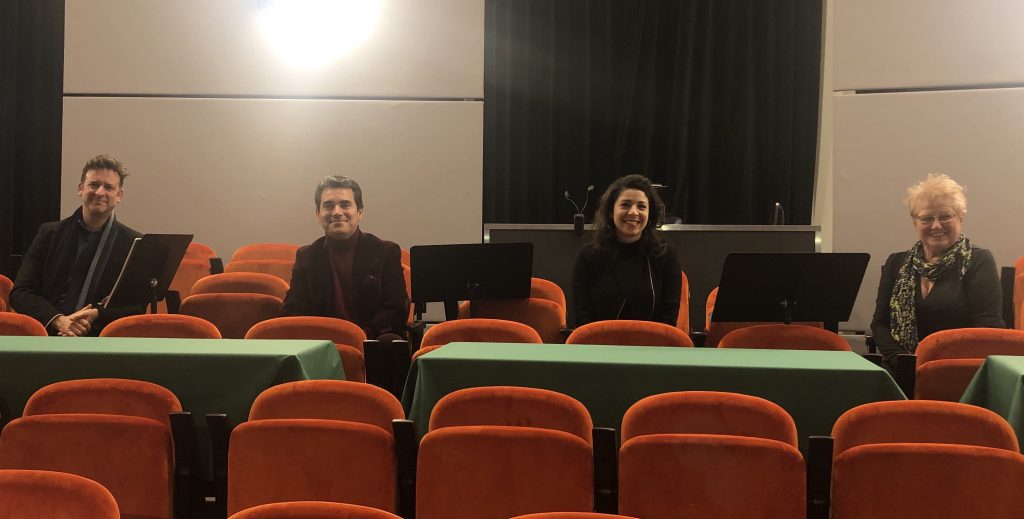 Jury B, assigned to the Soloist category. Left – right: Sylvain Blassel (France), Vincent Ghadimi (Belgium), Anneleen Lenaerts (Belgium), Elinor Bennett (Wales).