European launch of 'Berklee Harp' @ L'Espace Camac
News
March 24, 2017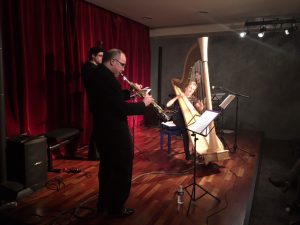 L'Espace Camac has had a great time welcoming Felice Pomeranz to Paris! Last Sunday, Felice came to L'Espace Camac with her quartet colleagues Sylvain Del Campo (soprano sax), Alex Trampas (bass) and Clément Cliquet (drums, perc), to launch her latest book in Europe. Felice quickly had the assembled workshop participants comping, soloing and playing with a rhythm section, before giving a jazz concert that had the audience shouting for more.
Berklee Harp is an entirely harp-focused, improv textbook now out from Berklee Press. Felice's class at Berklee has won well-deserved fame since its beginnings in 2002;  MarieMarie, Charles Overton, Nicolas Castaneda, Mairi Chaimbeul, Maeve Gilchrist, Pia Salvia and Olivia Fortunato are all among Felice's former students. Students cover a huge range of contemporary music-making, and the careers they go on to develop are just as diverse.
Elsewhere, it remains the case that most pedal harpists grow up in the classical tradition. Like many things, this has pros and cons. A good classical musician will certainly have learnt to move their fingers quickly around a complex score, but it is still not the case that all of us understand what we are reading. Let's be honest: many of us have struggled to play along with spontaneous Happy Birthdays in the orchestra, or not managed anything very convincing when suddenly given a lead sheet where we should fill in the chords or whole-tone glissandos.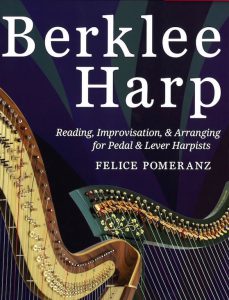 If this is you, then you need Berklee Harp! "I have noticed", Felice writes, "that students need extensive work on skills beyond simply learning notes on a page. Berklee Harp is designed to help harpists actually apply basic chords, chord symbols and harmonic progressions in the performance of a wide range of music." The book starts at a C Major triad in root position, and over the course of a very manageable hundred pages, takes you through all basic chords, additions and tensions; comping and vamping; basic accompaniment patterns according to style and time signature; blues, bossa nova and tips for your next level. From the beginning, you play what you learn, as you'll going to need it later – with smooth voice leading from the beginning, and also pedal markings are forbidden. Lead sheets do not have pedal markings, so if we want to be able to use them, we have to internalize what pedals belong to what progressions. This includes spelling chords enharmonically, the which mental gymnastics being a fact of life for improvising pedal harpists.
The exercises also offer alternatives for lever harpists – and technique is not forgotten either. Being reminded not to buzz and to articulate well at the same time as practising chord changes puts theory and practise on one level. After all, it is separating theory and practise that causes us all not to be able to play Happy Birthday in any key in the first place.
Berklee Press is associated with Berklee Online, and Berklee Harp also offers backing tracks you can download and play along with. So what are you waiting for? Berklee Harp is available now from the Camac online boutique.