News
January 10, 2017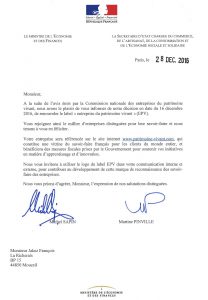 Happy New Year! We hope that 2017 is full of health, happiness and exciting projects for you all. We have returned from our winter holidays, and the year has begun well with the news that for the third time running, we have been awarded the Enterprise du Patrimoine Vivant ("Living Heritage Company"). We will now hold this prestigious certificate for another five years.
The EPV is given by the French government, to companies who underpin and further France's artisan and manufacturing heritage. France boasts many fine such traditions, particularly in the fields of the arts and culture, and in technological innovation. We are inspired, of course, by the fine French instrument makers. Our Elysée and Vendôme concert harps are direct tributes to the genius of Sébastien Erard, and we keep a treasured private collection of historical instruments.
In the face of increasing globalisation, it is important to remember why a company might decide – as we have decided – to remain committed to domestic production. This is one of the principal motivations behind the EPV.  We are very sorry that so many of you are currently on waiting lists, and we are working hard on this situation. If however we were to move our production out of Mouzeil, you could get your Ulysse more quickly, but we would immediately lose our overview. We are always working with our stable team, most of whom have been with us for years. This is good for quality, because human individuals stay in one place, constantly building on their savoir-faire. All our new harps are tested by the same professional harpist who has been coming to our workshops weekly, for years. All this gives us a fantastic quality control. Sticking to this principle has occasionally required us to hold our nerve, but our confidence in our instruments has never been firmer. For example, we recently doubled our warranty period on our concert harps to ten years, double the usual time.
Artisanal heritage is about what is made, and also the people who make them. A good and sincere business is part of a community, as evidenced by the Harpes au Max festival run with such interest and generosity by the COMPA, our civic authority. We are a source of employment, in an impassioned field with constant opportunities for professional development. Almost every musician needs occasionally to remind themselves why they are bothering to work so hard. One way to make it all worthwhile again is to attend an amazing concert; we often do. We are also energised by our time with our colleagues and friends, all committed to making the most beautiful instruments that we can.
Read more about our quality and directives here. We are happy to answer questions about our manufacturing processes at any time; just contact us for more information.