Cardiff Camac Harp Weekend 2017
News
March 29, 2017

Telynau Vining Wales ·  Cymru, our exclusive partners in Wales, have run an excellent annual harp weekend for the last three years. It is a glowing example of the sort of harp days we put on all over the world – the idea being to provide special artistic, commercial and service opportunities, and also to celebrate a regional harp community ! Artists, businesses and concert/festival organisations commonly assume it is best to be as international as possible, but they are wrong. Community – in other words, friendship and collaboration – begins at home. The friend you up sticks to go and see is a better friend than the one you just message on Facebook; the local bookshop you enjoy browsing offers more than a faceless order via Amazon. Music, too, is an expression of community, and there is nothing like developing your studies and career from the solid foundations of where you live and work. This is why one of our sponsorship hallmarks is our Camac Festival, which always takes place in a particular region; it's also why we go crazy every two years at Harpes Au Max, in our home part of Brittany.  It is also why our partners are so important to us. It is much more convenient to buy your instruments and accessories close to home, and our network of best-quality, exclusive Camac harp centres is growing all the time.
Telynau Vining Wales · Cymru have been Camac partners for the last eighteen years. They have just extended their Cardiff premises, and their own programme of special and touring events also continues to go from strength to strength. It is our pleasure to collaborate with them in bringing a special selection of exhibition harps, and sending our head technician Enric De Anciola to carry out sponsored regulations.
Wales is nothing if not rich in home-grown harp talent: Catrin Finch, Elinor Bennett, Eira Lynn Jones, Meinir Heulyn, Gwenan Gibbard, Ben Creighton-Griffiths, Eleanor Turner, Gwenllian Llyr and Amanda Whiting have all taken part in the Cardiff Camac Days since their beginnings in 2015. This year, Elen Vining also invited colleagues from London – Gabriella Dall'Olio, head of harp at Trinity Laban Conservatoire of Music and Dance, and blue harp star Tara Minton. And – she'd appeared at the 2015 Cardiff days via video link, and this year she arrived in person! Deborah Henson-Conant provided the grand finale, backed by Shelley Fairplay and her ensemble Dynamic Harps.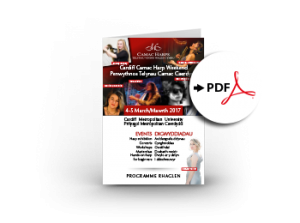 Preaching what they practise, all the performing artists generously gave workshops and classes. From a classical masterclass with Gabriella, to classes for complete beginners with Ben Creighton-Griffiths (returning for another year) and Shelley Fairplay (ditto), there was something for everyone. Eleanor Turner, now making great waves at the Birmingham Conservatoire, ran workshops on contemporary notation, and deciphering scores so that dots become music; together with Balandino Di Donato, Eleanor also explored electronic and computer interfaces with the Camac electroharp. Tara Minton and her trio colleagues Ed Babar and Tom Early gave a jazz class, and Tara another one on her own, about the harp in popular song. We'd loved the Tara Minton Trio only a few days earlier at the opening of our new store in Rotterdam, and it was great to hear them again! Meanwhile, DHC initiated a large group of eager participants into the wonders of her favourite use-anywhere left-hand pattern, and autographed a lot of Blue Lights her fans had brought along to The Ultimate DHC Pluck Off.
It has taken two years to have it fit his schedule, but this year our president Jakez François was also able to go! Our friends in Cardiff literally met their maker, in a class Jakez gave about how Camac harps are built. Tara and DHC both talked him into rare on-stage appearances with them, and this was a truly lovely experience for everyone there. Our work with Deborah Henson-Conant needs little introduction; we have also supported Tara for some years now. These long-standing collaborations are hugely inspiring and satisfying for us. We feel very honoured and very proud when such wonderful artists put their faith in our harps – and it is usually working closely with harpists that lead to the most successful improvements and developments in our instruments.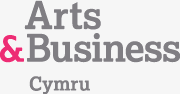 What next for Telynau Vining? Last week, we heard that a match funding project between Vining, us and the Wales Harp Festival has been successful. Our joint sponsorship of an education programme leading up to the next 2018 Wales International Harp Festival, will be matched by Arts and Business Cymru/CultureStep, to fund workshops / concerts in North Wales schools, targeting those which offer harp lessons in deprived areas. The match funding will also allow twenty children and parents to receive free tickets to this year's harp festival concert in Caernarfon. Find out more in due course, either on Telynau Vining's website, or of course here on Harpblog!