Camac Festivals 2016
News
November 23, 2016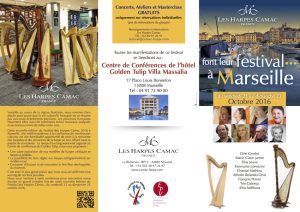 @ Camac, we particularly love running festivals. We hold or co-sponsor events all over the world, from week-long festivals, to individual harp days. A hallmark of our calendar is the Camac Festival, which takes place every year, and celebrated its tenth anniversary in Nancy in 2015. Traditionally, we have always held the Camac Festival in a French-speaking region. The idea is to show that there is rich cultural life throughout our francophone home territory – not just in Paris. Each Camac Festival also aims to reveal as much of the harp's musical diversity as possible, provide an exceptional opportunity in the form of our biggest exhibition of the year, and always attain the highest international standards of both artistry and service.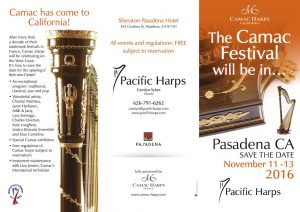 We like doing the Camac festivals so much that in 2016, we ran two. On the weekend of October 21 – 23, we went to Marseille; and three weeks later we took the concept to the USA for the first time, for the Camac Festival Pasadena.
In Marseille, second largest city in France and stretching for miles along the luminous Côte d'Azur, we were honoured to count the cream of French harp talent among our festival artists. Marie-Claire Jamet, Chantal Mathieu and Germaine Lorenzini performed or gave masterclasses; for the lever harp, François Pernel was there with Trio Galexya, pushing the boundaries of the instrument into powerful new spheres.   We also enjoyed a beautiful performance by one of France's rising stars: Elisa Jouve, recent winner of the "Prodiges" talent show, with her violist Jeanne Duquesnoy. The "French school" is much-discussed and little-defined; whatever the "school" may mean or teach, it is evident that France has long been a centre for harp playing and indeed harp making. We are proud of our heritage, and particularly of course of the artists who have placed their faith in our instruments.
The music industry is always looking for the next big thing. We too are thrilled to discover new talent, as with Elisa and Jeanne, or with Alisa Sadikova, the extraordinary, thirteen-year-old Russian talent who also performed in Marseille. But what the PR departments of the big industry players sometimes forget, is that the Wunderkinder are even more exciting when placed alongside the work of a lifetime. When you experience an artist like Marie-Claire Jamet, Chantal Mathieu or Germaine Lorenzini, then you begin to sense where the young stars could reach. When you listen to performances of that level of musical maturity, you are given – like a gift – a profundity of experience that can take your breath away. The concerts they have played, and seen; the artists they have worked with; the conductors, some now stuff of legend; their connections to harpists who also define our history. Everyone present was particularly moved by the festival's concluding homage to Marie-Claire Jamet. It is difficult to describe on paper, but she gave us not only a beautiful concert, but we also all realised that here we had the presence of a figurehead to which we all aspire. The world of music is very large, with room for all sorts of different lives in it. As we travel around it, searching and finding our place, it helps to remember that ultimate beauty and nobility, and fineness driving it all and us all.
Festivals are a wonderful opportunity to make new friends, as well as meet up with old ones. We invited Southern California resident Alfredo Rolando Ortiz to fly half-way round the world to Marseille, rather than drive down the road to Pasadena (we were looking for an excuse to see him twice). Alfredo is also a legend, on the Paraguayan harp. We were thrilled that he dared to risk a few numbers on our new, electric Paraguayan instrument, despite the different colour-coding of the strings!
The run-up to each Camac festival drives Enric and his team of technicians – to use a technical term – bananas. The exhibition of the year has to be selected, regulated and prepared. We're always proud of their results, and if you see slightly wild-eyed technicians running round Mouzeil at this time of year, feel free to say a few encouraging things about the health benefits of keeping busy. This year, half the stock also had to be shipped to California, for the first Camac Festival USA!
As our planes left the freezing mists of Northern Europe, and landed in Los Angeles in thirty-degree sunshine, we were excited to find out what California would say.  In collaboration with our West Coast partner Carolyn Sykes, we had invited a fine contingent of local artists. Kate Loughrey, from Pasadena itself, opened our Friday night classical concert. Laura Porter and Nancy Wallace from the Fresno Philharmonic then gave a fascinating performance of flute and harp music none of us had heard before – yes, it is possible! They had selected works by Hendrik Andriessen, Clemence de Grandval and Darrell Handel, all of which even put the harp to the fore ("it is a harp festival, after all", remarked Laura drily).
Finally, Chantal Mathieu returned for another stunning performance, and  vigorous applause and CD-signing afterwards, wherever she went…until Camac staff could be seen running after her shouting about planes, LA traffic and the need to get in the car to the airport NOW.
We followed Friday's classical evening with two decidedly non-classical concerts on Saturday. First up was Jessica Brizuela's Latin Ensemble, and Lara Somogyi on the blue harp. Lara is no stranger to Harpblog's pages, thanks to her ever-growing pop project with the blue harp. By dint of an amazing range of pedals and loopers, Lara turns the blue harp into an entire band – and she is as impressive live, as she is on video.
Jessica and Lara were followed by Addi and Jacq, the NYV singer-songwriter duo we were thrilled to discover in Princeton in 2015, and who thrilled us just as much in Pasadena in 2016! We also had the chance to discover new American talent. Charles Overton, performing jazz with bassist Will Lyle, fairly bowled us over. They received a standing ovation, and we can't wait to hear what they do next.
Many Camac festivals involve a local youth ensemble, and Pasadena was no exception. Many thanks to Elaine Litster and her Colors of Los Angeles Youth Harpist Ensemble, who joined forces with Janet Harbison for a joyful closing concert.  Janet Harbison, doyenne of the Irish harp, is another artist who  is applauded and had sign albums wherever she goes, until the Camac staff can be heard shouting about taxis and traffic.
We were very glad to be able to provide a chance for young harpists to work with her – which we could not do without all the ground work from Elaine and her team. There's a lot of rehearsal, a lot of arranging and a lot of organisation involved, and this work behind the scenes is some of the most important of the festival. We would also like to warmly thank our California partner Carolyn Sykes for all her work behind the scenes. When we are not at home, a lot of the organisation necessarily falls to the partner in situ and she has been wonderful in her love and care for detail, and the faith she was willing to place in our concept.
Where next for the Camac festival? We'll be back in France this time next year – keep an eye on the Camac blog, and you'll be the first to know when we reveal our as yet top secret location. And where else? Well…you'll have to wait and see!