It's beginning to look a lot like Christmas…
News
December 1, 2017
As Christmas approaches, you might be wondering what to gift the harpist in your life – and, here at Camac we're great believers in presents to oneself, as well. An excellent option is always a new harp – but if that would be stretching it a bit, here's a round-up of other things we're writing on our lists to Santa. 

Until December 22nd, Camac Harps Germany has 50 – 70% off ALL sheet music in the Berlin store! Hurry, hurry, while stocks last…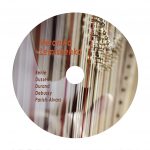 Veronika Lemishenko has released her solo CD. This classic programme of Renié, Durand, Debussy, Parish-Alvars and Dussek would be a great present for all lovers of the solo literature – and particularly all those who are learning all these pieces for the big competitions. 
Veronika and Chantal Mathieu will also soon release a disc of works by Jean-Michel Damase, a follow-up to their fantastic tribute concert at the World Harp Congress in Hong Kong. We have recently updated our online boutique stock and now have Chantal's complete discography. 
The creation of our E C Llanera in collaboration with Edmar Castaneda, and subsequently the Electro Llanera and the Electro Paraguayan, has opened our eyes to the truly incredible world(s) of the  Latin American harp. Mauricio Carvajal is another Llanera artist with an interesting album, Mirando Al Cielo. This combines traditional Colombian, pop and techno elements.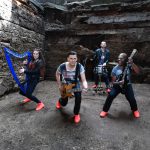 For something completely different, Paris'Click have released their second album, Assassine Logique. More rock and more symphonic than their first album Reset, 'Assassine Logique' also features no sound processing at all. "We wanted to keep the sounds of the instruments as they are", Paris'Click harpist Ophélia Grimm explains. "We're using cello orchestras, a lot of bass, across a wide range of tracks which together form a real exploration of music and counter-culture."
On the other hand, a very creative example of electric harps and sound processing can be found in Avallon, a second album from Aurélie Barbé. Created together with Benoît Rocco (electric vibraphone, percussion and processing), Avallon is an ambient disc with intriguing pop, traditional and contemporary influences. 
Looking for a new tuner? The Camac team all love this one, new in stock from Eagletone. Get it with a pickup that works and never end up tuning-embarrassed again. Tuning electro harps? You'll also need a good jack cable, like this one. 
Going in for the Concours Français de la Harpe, which will take place from 16 – 18th February, 2018? All the set works are available in a special category on our online boutique. 
Pictures: Veronika Lemishenko, Paris'Click, harp-store.com