'Autre Chose' and 'Mélanges': new lever harp editions by François Pernel
News
September 9, 2016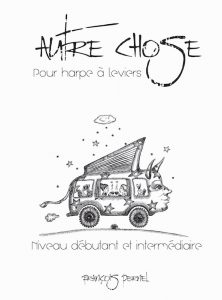 François Pernel's crowdfunding for a new range of sheet music has come to fruition. The new editions of 'Autre Chose' (Something Else) and 'Mélanges' (Mixtures) came out on September 5th, and are now available from the Camac boutique!
There are four volumes in total. 'Autre Chose' consists entirely of lever harp solo pieces, divided into beginner-intermediate, and advanced levels. 'Mélanges' is for chamber music – one book for lever harp ensembles, the second for harp and other instruments. "We all have musician friends who, like us, play the harp or another instrument", Mariannig Larc'hantec writes in her excellent introduction. "But it is sometimes hard to share our love of music with them, because we do not have enough repertoire. 'Mélanges for lever harp ensembles' and 'Mélanges for lever harp and other instruments' are designed for this convivial exchange. The mixtures offered here are of many different natures. Some are chamber music, and others are for groups of varying abilities, so that the most advanced players can support the beginners. The youngest profit from their companions' greater experience, and the latter also experience how to communicate what they know – so everybody learns from it." The creation of this invaluable new sheet music resource was also not a solitary endeavour – François worked with Aude Fortict and her student ensemble Harpinbag, who tried out all the pieces.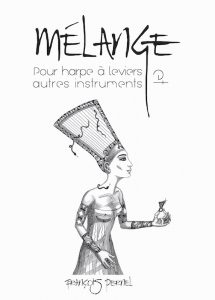 As announced when François launched the crowdfunding, the new books feature pieces written especially for the people who sponsored the project. There is a homage to Kristin Noguès, written for Jakez, and five other special new works.  François has unified all the lever notation – and taken out the dynamics. This is in order to give even the youngest students a chance to put their own stamp on the music.
Last, but certainly not least, there is an enormous amount of exciting new music in these editions. There are 87 solos, 25 harp duets, diverse harp trios, and music with violin, flute, piano and cello…across over three hundred pages in total! They are a wonderful new resource for students, teachers and professional musicians alike, with all the harmonic spark and creativity that belongs to the musical universe of François Pernel.