An interview with Alfredo Rolando Ortiz
News
October 19, 2016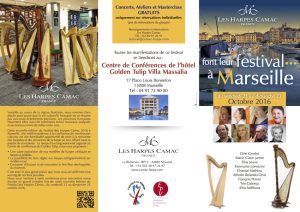 A star of our Camac Festival in Marseille will be the famous South American harpist, Alfredo Rolando Ortiz.  From "How to Händel Latin Rhythms" to a wonderful array of printed and downloadable original compositions, Alfredo has brought South American music straight to the hands of non-South American harpists – in harp ensembles, with orchestra, and above all for harp solo. He also has an amazing life story to tell!
"I was born in Cuba. As a child, my only exposure to the harp was the occasional appearance of a pedal harp on TV or in the movies", Alfredo explains. "But soon after my 11th birthday, we moved to Venezuela, arriving by ship. The car trip from the port of La Guaira to Caracas changed my life: they turned on the radio, and we heard beautiful music. Somehow, it was "different", but we could not figure out what it was until a couple of days later. We heard the same music on a TV show, and I saw the Venezuelan folk harp for the first time!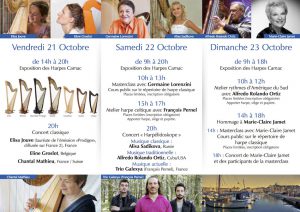 Usually, I saw this harp in a trio, together with maracas and the cuatro (the small four-string guitar, which is Venezuela's national instrument). The trio played lively rhythmic dance music, and also some slower romantic songs. Most of the music also involved a singer, but some was purely instrumental – especially when the famous harpist-composer Juan Vicente Torrealba was playing his beautiful compositions. This type of music was so popular that it was played almost every day on the music show, where national and famous international "stars" would also perform. So I was hearing harp music all the time – on the radio, and at school it was common to see kids playing the harp during talent shows or other celebrations.
On TV, I saw many groups from Paraguay, where the harp was accompanied by one or two strumming guitars. Among these groups, there was one whose harpist was Alberto Romero, and there was a woman singer and a guitarist accompanying them. I had arrived in Venezuela in early 1958. In December of 1961, before the Christmas vacations, my school friend Fernando Guerrero played the harp at a school show. I had had no idea he played the harp! I asked him if he would teach me. He said that he had studied for a few months, he would be happy to show me what he knew – but that first of all, I needed a harp.
As soon as I arrived home I asked my parents for a harp. Being fifteen, I was just thinking of myself, without paying attention to the reality in our home. The Cuban crisis was at its worst. Friends and relatives were leaving the country, leaving behind everything they had, and not being able to bring anything with them apart from a few clothes. In a two-bedroom, one-bathroom apartment, we had: my parents, my two sisters (one born just months ago in Venezuela), and about ten Cuban refugees sleeping on the floor (no mattresses, just sleeping on the floor)…and there I was, asking for a harp. My mother reminded me that the week before, I had had to break into my piggy-bank to buy milk for our little sister.
Amazingly, a Venezuelan who had befriended one of the Cuban refugees heard about my wish for a harp. He had a Venezuelan harp at home – just for decoration – so he said I could borrow his harp to study. Fernando gave me lessons totally by ear. I had to watch, try to imitate, and there wasn't even any colour coding on the strings!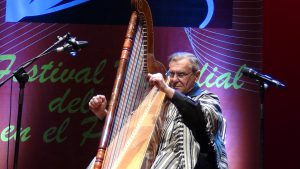 Several months later,  a Paraguayan group came to play in an amusement park near our home. It was a free performance. I went, and managed to talk to the Paraguayan harpist. I told him how much I loved the Venezuelan harp, and how I was learning form my friend. I also told him about my strong interest in the harp and music of Paraguay. He gave me the name and phone number of a man he thought could help me find a Paraguayan teacher. I called the man, who kindly offered to come to our home with another harpist form Paraguay who was in Venezuela for a few days. A couple of days later, our family and the Cuban refugees had a marvelous night of music with the man I had called, and his harpist friend. It was during that night that we found out that the man I had called was the Paraguayan AMBASSADOR in Venezuela at the time: Marcial Valiente!!!
Valiente was a passionate lover of the music of his country, and was impressed by my obsession with the harp. At the end of the night, he said he knew a Paraguayan harpist that could be my teacher: Alberto Romero!!! The very same Alberto Romero I had seen on TV, and whose LP I had bought. It turned out he lived just a few blocks away from our home.
I went to see him. He showed me his harp, which was very different from the Venezuelan instrument, and gave me a long lesson. At the end, he said he wanted to see me again the following week, the same day and time. I didn't know what to say – I was so embarrassed, because I didn't even have money to buy a sweet, much less pay for formal harp lessons. Somehow, I managed to explain about my difficult circumstances, and he turned red in the face and looked very upset. "Who is taking about money!" He said. "See you next week!". It was an order, not a request! Alberto was my teacher until I left Venezuela to go to Colombia in December of 1963, to study medicine. He never charged me for a single lesson.
I began medical school in Medellin, Colombia, in January 1964. A few months later someone who had heard me asked me to play at a wedding reception, with pay. It was my first professional engagement. One of the guests at the wedding asked for my records! I explained that it was my first job, and I had never recorded anything. He gave me his business card and asked me to go to his company the following week. He was a top executive at CODISCOS, the most important recording company in Colombia at the time. I went and performed for several executives, and was offered a flat, plus $200 to record a full LP.  With that, I could buy my books and pay for many expenses. Soon I wrote to my parents, thanking them for the huge effort they were making to help me go to medical school. I told them I thought I could pay my studies with my music. I was 17 years old, the youngest in my class at the medical school. The recording was a success and I was offered an exclusive contract. Between 1964 and 1980, I recorded a total 28 albums of all kinds of music: traditional from many countries, music for dancing, music to just listen to, music from the Andes, from the plains, two albums of Paraguayan music and even ROCK AND ROLL! Yes, I was the first harpist ever to do a rock and roll album, including These Boots are Made for Walking, The Hanky Panky, Yellow Submarine, and so on. I was accompanied by the most famous rock group of Colombia at the time, called "Los Teenagers."
I graduated from medical school in 1970, and worked as a doctor as well as a harpist until I moved to California in 1975. This was to continue the music therapy studies, that I had started in Colombia. Soon I was performing in California, and also teaching – for example, at the American Harp Society Conference in Albuquerque, in 1976. In 1978, with my wife pregnant with our first daughter, I was performing seven days a week, and working five days a week at Fairview State Hospital in Costa Mesa. Not having any time for the family with such schedule, I then decided to dedicate my life to my family, and the harp.
In 1975 I had started recording completely solo for the first time – which was actually the way I always performed. Since then, all my recordings have been solo, except for accompanying our daughters as they sing my compositions on my CD "Los 3 Ortiz", and the recording of my South American Suite for Harp and Orchestra, with the El Paso Symphony.
Unique circumstances allowed me to become a solo harpist, as opposed to being part of music ensembles with other instruments – which is how the harp is traditionally used throughout Latin America.  Obviously, all harp players practice by themselves and put many hours of practice alone. Our harp traditions are really folk traditions, learning by ear, and imitating or following directions from teachers who are often just friends. At the time of my first harp lessons in Venezuela (1961 to 1963), there were no formal harp schools at all in Caracas and I think the same was true in Paraguay,  Mexico and the other countries where the harp is a traditional folk instrument in Latin America. Radio and television brought harp music to everybody, but  always within the traditional format of each area or country, and with the harp together with other instruments.
When I began medical school in 1964, I soon made contact with other students who were musicians as well as medical students. I practiced my repertoire with a guitarist friend, and I played a few engagements with him. But soon his schedule was conflicting, and I continued performing solo and realized that nobody was asking where the guitar player was! I kept playing alone and even though the recording company produced my albums with accompaniment, my real live performances were solo. Little by little, I learned that playing solo allowed me many more expressive possibilities, because I did not have to compete with the other usual accompanying instruments which always required the harp to play loudly, against a strumming guitar or cuatro, maracas and other instruments.
Through the years recording for CODISCOS in Colombia, I performed for many private events and recitals, always solo. It was when I moved to the United States in 1975 that I learned that I could produce my own recordings and for the first time record solo. As far as I know, I was the first Latin American harpist to perform as a solo harpist professionally. Still today, only a very small group of Latin American harpists perform as solo artists, and the prevailing format remains the harp together with other instruments.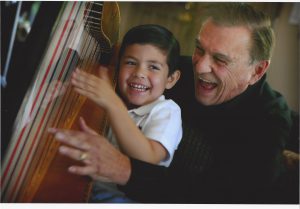 I have composed since very early on in my career. At first I created pieces that followed the traditional rhythmic formulas from many countries, but little by little I started composing music that, even though in most cases it included traditional rhythmic patterns, had a more flexible form. This has joined the pedal harp repertoire with a wide variety of Latin American rhythmic influences. It is precisely this classical repertoire with traditional Latin American roots that I will perform in Marseille.
I think it's important that all harpists enjoy playing Latin American traditional harp music of any style, and solo.  My workshop in Marseille will explore a variety of styles, as well as fun special effects that can be used not only for Latin American music styles, but for all kinds of music – and of course, personal compositions!
All the rhythmic patterns, special effects and music in my Marseille workshop can be played on all harps. Of course, it is fun to have other types of harp, like the llanera or paraguaya. But my workshops are never for a special type of harp – they are for everyone. I have a pedal harp at home, and professionals, teachers and students on any and every type of harp come and study with me. So – COME AND HAVE FUN AT MY WORKSHOP!"