20th International Harp Festival, Gödöllö: October 5th – 14th, 2018
News
September 20, 2018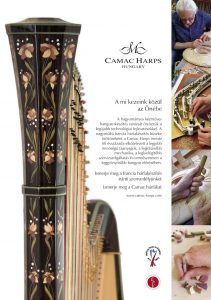 Congratulations are in order to the Gödöllö International Harp Festival, which is twenty years old this year! We are happy to be returning to the beautiful setting of the Royal Palace, as well as the Great Hall of the Academy of Music. The entire festival runs for over two weeks, with a great range of contributions across the world of Hungarian and international artists, and diverse sponsors and harp makers. Andrea Vigh, Rector of the Liszt Academy of Music, and Anastasia Razvalyaeva, Artistic Director of the International Harp Competition in Szeged, will open the festival with French and Spanish solo repertoire: Albéniz, Granados, Franck, Debussy and Rameau are all on the programme.
This will be followed by the "Camac weekend" of October 6th – 7th. On Saturday evening, Ben Creighton Griffiths will give a jazz concert – which will be your chance not only to discover Ben's excellent blend of original music and jazz standards, but also how he turns the electroacoustic pedal harp into a one-man band.
On Sunday October 7th, also in the Royal Palace of Gödöllö at 7PM, Isabelle Moretti will give a solo recital: Tournier, Debussy, Fauré, Pierné, Grandjany, and also Ginastera, Quintanilla and De Falla. During the daytime, there will also be concerts by the winners of the Hungarian National Harp Competition; a presentation of different student harp ensembles performing together with Ben; a children's concert directed by Andrea Vigh and Csilla Gulyás, our Hungarian partner; and the much-to-be-desired idea of a "Cheerful Harp Competition", this one specially for beginners. 
More information and ticket booking is available from Jakobi Koncert, Hungary, or via Csilla at Camac Harps Hungary.