World Harp Congress, Hong Kong 2017 – grand finale!
Latest
July 13, 2017
All over the World Harp Congress building, enormous numbers of flight cases are being assembled, smartly-suited exhibition staff are changing into sportswear, and the packing up begins!
Citing "artistic reasons", I escaped the loading and headed for two last concerts. Katryna Tan and her groups Rave Harpers, Penang Harpers and the Cempaka Harp Ensemble performed their HARP MUSICAL, 'Pluck and the Magical Banyan Tree'. This is a truly impressive show, with full staging, lights, costumes, dialogue, music…and all ensemble pieces played entirely from memory (even by the youngest harpists).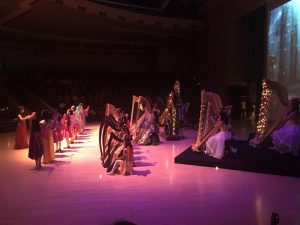 Like all blockbusters, Pluck! is already into the sequels and this is actually the third Pluck! to be performed. It is an amazing example of what teachers and students can achieve. When Katryna returned home after her studies in the USA, about fifteen years ago, nobody played the harp in Singapore. Katryna now has flourishing studios in both Singapore and Malaysia (also the seat of our distribution in those countries), with over one hundred students in total. She has brought her classes to festivals in France (several times), and keeps up a busy programme of events. To take part in a harp musicial like Pluck! is a complete experience for the children – and the story of the show is how to stay close to the power of music. As Csilla Gulyas discussed in her Kodaly talk yesterday, music teaching is about giving children a lot more than some  facility on an instrument.
Following Pluck, we enjoyed the handover ceremony for the next World Harp Congress – in Cardiff, 2020! The Royal Welsh College of Music and Drama Harp Ensemble, Catrin Finch and Ben Creighton Griffiths gave a brilliant concert, including WHC featured composer Paul Patterson's Avian Arabesques, 'Welsh Fantasy' by Jeff Howard, Godefroid's Carneval de Venise, and the first movement from Catrin Finch's Celtic Concerto. Catrin even promised sunshine in Cardiff for the duration of the Congress week. 
We are all setting off now on our long journeys home, and in some ways both these last events are about journeys. Pluck and the Magical Banyan Tree is set in the kingdom of Enchantia, where people are forgetting how to make music. Pluck embarks on a journey to find out why…and rescue music before it is completely forgotten. Meanwhile, the WHC journeys around the world. Hong Kong was its first visit to Asia! The Congress attracted over one thousand full-time delegates, a credit to the organising powers of the Hosting Committee, and a testament to the dynamic harp scene in Asia. 
Over on Facebook, you can watch Dan Yu and Florence Sitruk on RTHK The Works, talking about the Congress, the events – and also the harps. As well as being the biggest artistic meeting for harpists, the WHC is also your most extensive chance to try out new harps, and exchange with the harp makers. 
Music develops via a continuous cycle of three things. If you have good instruments, then talented musicians will get interested in playing them. Once you have fantastic instrumentalists, good composers get interested in writing for them. The level of harp playing and writing for the harp is higher than it's ever been; every time we go to a Congress, we are amazed by the quality and variety. It is a pleasure and a privilege to work on harps for you. We hope you have enjoyed the week trying them out, as much as we have enjoyed showing them.