World Harp Congress, Hong Kong 2017: Tuesday, July 11th
Latest
July 11, 2017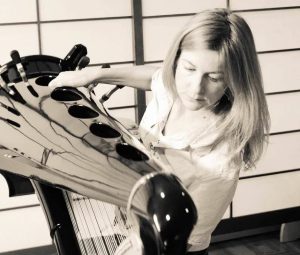 Have you ever been advised to immediately release the tension right down on your harp, for example before freighting? This idea frequently circulates internet advice forums and social media, but in fact there are few things in existence that are worse for your harp. Harps being what (or perhaps I should say, who) they are, nothing ever goes wrong at 9:30AM on a Tuesday when your technician is sitting by the phone. Your best defence against a panic at precisely the wrong moment, is to attend a technician session when you can! You can learn how your harp works, and check hearsay against facts. 
The Hong Kong WHC has wisely programmed such sessions from many of the harp makers, and our turn is tomorrow. Bright and early at 9:15, our principal touring technician for the USA and Australasia – Liza Jensen – will give a workshop about the construction of our harps. Discover why they are lighter, stronger, easier to regulate, why you'll never suffer the always-just-before-a-concert nightmare of a broken pedal rod, and much more besides.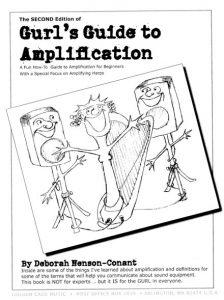 Deborah Henson-Conant is here in Hong Kong (and appearing at the Pop and Jazz Night on Wednesday!). She has written an excellent book, the  "Gurl's Guide to Amplification". This clear, friendly guide aims to empower the harpist by explaining the basics – it won't take you long to read, and it could make your life much, much easier in the future. Our technicians' sessions follow the same philosophy! We also have a specialist electro room as past of our exhibition halls in Hong Kong. The Camac team will be happy to discuss your amplification questions throughout the duration of the Congress. 
Today also marks the appearance of two heavyweights (in the metaphorical sense) of the French classical harp: Chantal Mathieu, and Sylvain Blassel. Chantal, Veronika Lemishenko and Sakuya Koda (soprano) will perform a tribute concert to Jean-Michel Damase.
The then ten-year-old Chantal Mathieu met Damase in Jacqueline Borot's appartment. A few years later, she won her Premier Prix at the Paris Conservatoire, performing the Sicilienne Variée which Damase had just written at the time. She also performed often in orchestras he was conducting, and she was even accompanied by him on the piano in Moscow, performing the Debussy Dances. We are looking forward to a programme of the Sicilienne Variée, Aubade, the Sonatine for two harps – and Epigrammes et Madrigaux, a cycle of nine melodies for voice and harp commissioned by Chantal in 2004. 
Even if you're not in Hong Kong, you can hear Chantal any time of the day or night on our Canopée video! We are very honoured that she consented to play for the launch of our new instrument. 
After the Damase Tribute Concert, Sylvain Blassel will perform one of the Liszt programmes for which he has justifiably become so well-known. The last time I heard this programme, at the Princeton Harp Festival, remains one of the most profound musical experiences I have ever had. Apart from Sylvain's technical brilliance – catapulting "playing transcriptions on the harp" into new dimensions – I also love the clarity and audacity of his musicianship. In Princeton, he also gave a lecture about the question of "authentic interpretation". It's as important to think critically in music, as in any other art form. When you watch a great musician perform, it's not the brilliance of their technique or how mistake-free they play that blows you away. It's the sense behind the notes, the order, the grasp of the oeuvre in its entirety – as a piece of music, a piece of an epoch, and a piece of the artist themselves, as the work has come to be. 
In the afternoon, we'll enjoy another Asian highlight concert – this time, from Indonesia and Japan. Heidi Awuy, our partner in Indonesia, is bringing her harp ensemble to perform traditional Indonesian music on the harp. Heidi writes: "this is an interesting crossover, especially when the harp plays gamelan or keroncong patterns, which are familiar to the public from traditional instruments." After this, Gabriella Dall'Olio will make another appearance (following on from her beautiful Ginastera Sonatina on Monday), together with Sara Sìmari to discuss 'The Harp in the Kingdom of Naples: from Street Musicians to Celebrated Virtuosos.'
In the evening, we'll decamp to the Hong Kong Cultural Centre Concert Hall, for the World Harp Congress Gala Concerto Concert. It's normally difficult enough to hear four harp concertos a year, let alone four in one night. And they are all unusual! Firstly, Anneleen Lenaerts will perform the Harp Concerto Op. 129 by Joseph Jongen – a beautiful Romantic work, strangely neglected, which you can also enjoy on Anneleen's CD of Harp Concertos with the Brussels Philharmonic. Next, Florence Sitruk will give the world premiere of Detlev Glanert's Harp Concerto. This refers to the harp's mythological traditions, in three continuous movements inspired by Ancient Greece. 
Thirdly, Xiaotang Gao will perform another world premiere: "The Road", by Qing Yang. This is not only a new composition, but a new setting for the konghou – "the first known crossover", the programme notes explain, "of the instrument with cello (Artem Konstantinov), double bass (Andrea Pino) and cajón" (Simon Williams). Finally, Baltazar Juárez and Nicolas Tulliez will perform Manuel Moreno-Buendía's Concerto Neoclásico (1994). Originally for harp, marimba and strings, the work was rescored by Moreno-Buendía in 2007, for two harps and strings. 
Phew! And after all that – we will all head to Grappa's Cellar to hear Cristina Braga, Ricardo Medeiros and Antonia Medeiros again – this time in quartet, with Nate Wong on percussion!