Discover Nikolaz Cadoret
Latest
September 15, 2017
All musicians have to find their way in life, and this is often not easy. You'll be told again and again that you need to "find your niche". I have often thought how helpful it would be to have more detailed communication about how musicians who've made it, got there. When you've just been thrown out of a competition and are feeling desperate – well, there are excellent famous harpists who never won competitions. If you know this, you can think about why they never did, how they nonetheless went on to succeed…and reach some perspective for yourself. Or maybe you are on the point of giving up the orchestral audition circuit; then, it's useful to consider what those who stopped went on to do – and also, what happened to those who continued. There is no right or wrong answer; the world of music is very large, with room for all sorts of different lives in it. So many, in fact, that you'd need a crystal ball to be able to work out your path without signposts to show you the way.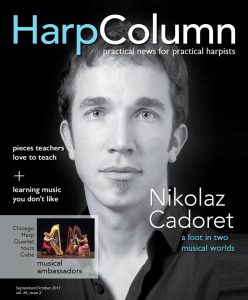 It is therefore fantastic news that Harp Column Magazine have decided to feature a wonderfully detailed cover interview with Nikolaz Cadoret in their current edition. From classical technique to traditional improvisation, orchestral positions and solo recitals, rock and roll and sound processing, this interview covers it all – mapping out Nikolaz's very diverse journey to arrive at where he is today. 
"You know", Nikolaz concludes, "when you are in the right place and you do the right things, everything becomes simpler. Suddenly everything is right. I've reached that point in my life, and in my music—everything is simpler." We are all looking for the point where we are working happily and hard, making the most of our best talents, rather than somehow against ourselves. 
You can read the whole thing instantly by taking out a subscription (print or digital) to Harp Column! A bargain at just $44.95 a year, for six great journals documenting the news and experience of harpists throughout the world. 
You can also meet Nikolaz himself at November's Camac Festival USA.  If you haven't yet had the chance to hear him perform, don't miss this one. You will never, or rarely, have heard such a virtuosic lever harp performance, full of both technical and musical surprises you never thought possible. You can also sign up for his workshop, which will have you explore many musical techniques and directions you maybe also never thought possible (for the doubtful: I promise that you could put a piece of brie in one of Nikolaz's workshops, and two hours later it would be dancing an An Dro and improvising crazy rock on a DHC). 
It is free to attend the Camac Festival, but you do need to register. Contact Megan at our East Coast partners the Virginia Harp Center, with whom we are running the show!